Sulaimon Brown Arrested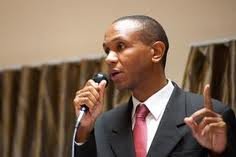 Former D.C. mayoral candidate Sulaimon Brown was arrested early Sept. 12 after D.C. officers charged him for allegedly driving without a valid license.
Reports state that after Brown was pulled over in his Mercedes Benz 300 around 1 a.m.for a broken headlight, police discovered he had a suspended Maryland license.
Brown, who was issued a $75 ticket for the broken headlight, claimed to have been driving home from a relative's birthday party.
Brown gained local media attention earlier this year after going to the press with allegations that he was fired from a high-paying job with the District he received in exchange for dropping out of last fall's mayoral race, and throwing his support to then-City Council Chairman Vincent Gray.