M&T Awards $100K to Mary's Center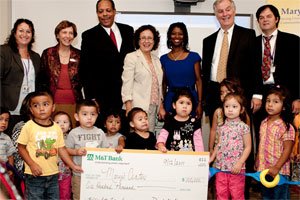 At a ceremony that took place on September, 12 at Mary's Center on Georgia Ave., M&T Bank awarded the well-known community health center with $100,000 in support of its programs serving over 24,000 participants a year.
"M&T works to strengthen the communities we serve, and Mary's Center is an ideal partner for us because they have demonstrated a real commitment to improving the quality of life of thousands of residents in our region," said Peter Black, President of M&T's Greater Washington Region.
M&T's support of Mary's Center will help the District close the gap on health disparities and other critical issues which are at a higher risk right now with increasing local and federal budget cuts.
"Our programs are in danger every day due to budget cut threats," said Maria Gomez, President and CEO of Mary's Center. "If those cuts happen, we could lose over $2.6 millionfor our programs and thousands of families will be affected."
To prevent this situation, Mary's Center, with two locations in Washington, DC and one in Maryland and 23 years of service in the nation's capital, recently launched a campaign to raise $4 million in two years to ensure the financial stability of the Center and its services.
Peter Black, M & T Regional President/ Greater Washington signs the check while Derek Harps, Vice President M&T looks on. Photo by Todd Parola"M&T Bank has been working with Mary's Center since 1997 and by supporting their campaign we will continue to be part of their continued stability and growth," said Derek Harps, M&T Vice President.
M&T executives, Mary's Center staff, and participants of the Center's childhood program were present at the check presentation ceremony.
Mary's Center founded in 1988, is a federally qualified health center that provides health care, family literacy and social services to 24,000 individuals whose needs too often go unmet by the public and private systems. Mary's Center uses a holistic, multipronged approach to help each participant access individualized services that set them on the path toward good health, stable families, and economic independence. The Center offers high-quality, professional care in a safe and trusting environment to residents from the entire DC metropolitan region, including individuals from over 91 countries. www.maryscenter.org.