The Reconstruction of Haiti Spurs Debate at Forum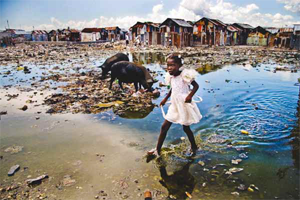 Twenty months after a 7.0 earthquake devastated Haiti's capital and surrounding areas, hundreds of thousands of residents don't know where their next meal is coming from. Women and young girls are routinely exposed to rape, abuse and assaults and cholera continues to plague the capital, claiming thousands of victims and infecting more than 400,000 Haitians.
About 700,000 men, women and children still live in tents cities which lack electricity and running water, and only 40 percent of the 19 million cubic meters of rubble has been removed from the streets of Port au Prince.
This despite the country having so far received $3.5 billion from international donors to rebuild the city from the ruins.
Sheena Townsend visited Haiti in August and returned chastened and troubled by what she witnessed during a trip to the land of her mother's birth.
"I was in disbelief at the earthquake. I saw pictures and videos but I wasn't aware of the level of devastation," said Townsend, 27, who is studying International and Comparative Law at George Washington University Law School. "Based on what I know, it's not going well. There's supposed to be billions there, but people are still living in tents, there is no electricity and water issues are prevalent. It doesn't seem like much has changed. There needs to be more organization. Money is coming in but you don't see where it's going. It's kind of like a headless body."
These and other issues were tackled during a three-hour forum hosted by the Caribbean American Intercultural Organization (CAIO) and the National Association for the Advancement of Haitians (NOAH) on Sat., Sept. 10, at the Hilton Hotel in Silver Spring, Md.
"It is an important topic and a topic important for all of us," said Margaret Forde, president of CAIO, a volunteer-driven, non-profit, non-partisan organization that is celebrating its 53rd year in existence.
The panelists included a Haitian diplomat and a Haitian dentist living in the area. Both agreed with Townsend on the devastating nature of the natural disaster. And the forum was moderated by Ambassador Curtis A. Ward, local attorney and international consultant.
"Of the earthquake on Jan 12 (2010), 35 seconds brought Port au Prince to its knees," said His Excellency Louis H. Joseph, Haitian Ambassador to the U.S. "Eighty percent of the economy was centered in Port au Prince. More than 200,000 people died, among them 17 percent of officials in the (Preval) administration."
Joseph said the earthquake destroyed 190,000 houses and left 1.5 million people homeless. In addition, 20 hospitals and 4,000 schools were rendered useless. The earthquake caused $13 billion damage and 75 percent of the capital was demolished.
"From an economic standpoint, the country's potential for economic development has dwindled," Joseph told 60 guests inside one of the hotel's salons, as he presented a Report on the Reconstruction of Haiti. "How do we build in such a situation when the government has decreased? It is only possible with a massive influx of capital and experts while respecting Haitian sovereignty."