The Reconstruction of Haiti Spurs Debate at Forum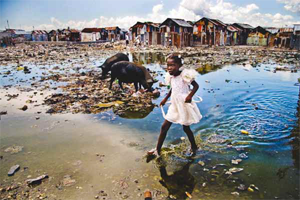 Joseph said the parliament under former President Rene Preval voted for such a measure but the final language and text voted on was not published in newspapers.
"I am not satisfied," said Voltaire, a trial attorney with the U.S. Department of Justice's Civil Division. "Haitians are two-faced. Did you think the publishing of the wrong text was an accident? Of course not."
Baptiste offered a detailed schematic of the development plan for Haiti's resurrection.
"The Interim Haitian Recovery Commission (IHRC) was created to coordinate the efforts of the international community," he said. "The commission operates with transparency as it produces a coordinated, efficient, effective plan which has integrity, accountability while enhancing the government's capacity."
"The priority is on investments, promoting partnerships, leveraging stakeholder resources, open communications and the collecting and storing of information," said Baptiste.
Former Haitian Prime Minister Jean-Max Bellarive and President Clinton are co-chairs of the 30-member commission. Half of the members are from the international community and the other half are Haitian.
When Baptiste said members of the international community must pledge $100 million to be invited to the board, several people in the audience shook their heads in astonishment.
"It is developing a plan of action that was needed yesterday," he said. "We're always reacting on an emergency basis. We haven't come out of the emergency phase yet with hurricanes and cholera."
Housing is the number one priority. In addition, the IHRC has built 250 temporary structures for schools, built an additional 60 schools, fed 500,000 children, provided half a million children with manuals and kits, as well as financial assistance for another half a million. The commission is responsible for building 75 hospitals and 40 clinics, and is working on increasing the availability of potable water from two percent to 50 percent of the population and is ramping up training of health care professionals.
All this progress notwithstanding, several participants expressed a variety of concerns during and after the forum. One is the presence of non-governmental organizations (NGOs) and the role they play in Haitian development. At present, more than 4,000 NGOs operate in Haiti but the government only has 400 registered, said Joseph, who agreed that there needs to be closer monitoring. Nobody in the gathering discussed widespread corruption in Haitian politics which is a major part of the reason why international donors depend so heavily on NGOs.
"Some very important issues have been raised as it relates to whether there is a grip on reconstruction," said former Grenadian Ambassador Denis Antoine, who was engrossed in a vigorous conversation with Voltaire. "It's Haiti versus the international community. The issue of non-governmental organizations not contributing to capacity building is a critical one. There is no training and no individuals put in place. This was devoid of project management by locals. There is a lack of 'of the people' and a lot of good intentions 'for the people.' But good intentions must be managed."
"Training, training, training. Who will manage the project? Who will run it after they leave? There are a lot of questions," said Antoine, who is Ambassador-at-Large and director of the Office of International Programs and Exchange at the University of the District of Columbia in Northwest.