UNCF, Wells Fargo Partner for Empower Me Tour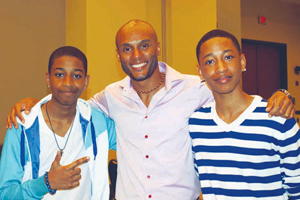 The United Negro College Fund (UNCF) Empower Me Tour, travelled to the Walter E. Washington Convention Center in Northwest recently to promote its career-and college-readiness programs among area students. The Empower Me Tour was created by the nation's largest and most effective minority education organization, in partnership with Wells Fargo and focused on middle school, high school and college students. Each stop on the tour incorporates interactive exhibits, college and career workshops, and engaging panel discussions with special guests, including nationally recognized celebrities.
"Students who attend the UNCF Empower Me Tour learn about financial literacy, college and career readiness and community service from experts and performers who speak their language," said Michael L. Lomax Ph.D., UNCF president and CEO.
"UNCF is excited to partner with Wells Fargo to help students build the strong foundation they need for successful, secure, financial futures. It is part of our mission of ensuring that every child gets a good education from pre-school through college empowering them to become the next generation of good citizens and effective leaders."
This year's tour was hosted by actor Brian White of the upcoming films "Good Deeds" and "Cabin in the Woods", singing sensation Kenny Lattimore, and Monique Jackson and Kita Williams, Executive Producers of VH1's "The T.O. Show."
Lattimore said that his involvement stems from his desire to teach young people the business and financial responsibilities that come with making money in the industry. Those tools, said Lattimore, will help foster positive financial wherewithal throughout their lives.
"I started out in the architecture department of Howard University and eventually moved into music and signed a music contract while I was still in school. I did not have mentors or people who could help me figure out how I wanted to develop my career. I am only getting that now. I want to educate young people about being responsible young people no matter what careers they choose," Lattimore said.
In addition, the award-winning singer said he believes his contribution will help impact individuals as well as larger communities.
"I'm truly honored to participate in the UNCF Empower Me Tour presented by Wells Fargo," said Kenny Lattimore. "The information that we will share will not only help to build and strengthen communities, it will encourage accountability and integrity amongst the young men and enable them to find balance in life and define a vision for their future. What a great head start."
Wells Fargo has long been committed to the financial education and empowerment of its customers. Georgette "Gigi" Dixon, Director of National Partnerships, Social Responsibility Group for Wells Fargo & Company said that the tour helps young people who will in turn pass those tools on to parents, teachers, and the larger communities.
"Our underwriting of this program and co-creation with UNCF was based on a request from HBCU (Historically Black Colleges and Universities) presidents that represent the HBCU member schools of the UNCF. We wanted to ensure they had access to real time information and insight into their finances," Dixon said.