UNCF, Wells Fargo Partner for Empower Me Tour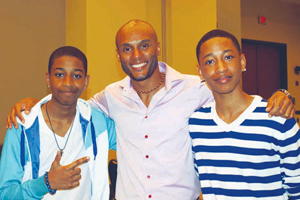 "We have consistently thought of ways to embed financial education into these colleges and universities in a way that the students are getting the information they need and they know they are being served by their banking partners," Dixon said.
Now in its fourth year, the UNCF Empower Me Tour, will visit nine major cities across the country including Washington, D.C. (September 9), Detroit, Michigan (September 17), Minneapolis, Minnesota (October 8), New York, New York (October 22), Boston, Massachusetts (November 5), Kansas City, Missouri, (November 19), Miami, Florida, (February 3), San Francisco, California (February 18), and Los Angeles, California (February 25).
Monica Newman McCluney, UNCF National Director Strategic Alliances and Corporate Relations said that UNCF established "The Tour" because they realized there was a disconnect between young people and their money.
"Our member presidents realized that students were squandering their money away and notable to pay for school and graduating with debt. We leveraged our partnership with Wells Fargo and decided to travel around the country to address these needs on HBCU campuses. The kids are also excited about the celebrities and the celebrities love giving back. McCluney said she would like to see the Tour, which is in fine states now, grow to include all fifty states.
Attendees will participate in informative workshops, panel discussions and the Empower Me Tour Zone - an interactive experience for students, parents and educators providing an opportunity to interact with college recruiters, receive a professional resume review, learn about scholarship and internship opportunities, receive information about healthy cooking and disease prevention from our resident celebrity chef, experience an authentic Greek stroll, listen to the celebrity DJ spin, games, prizes and more.