Mayor Partners with Private Sector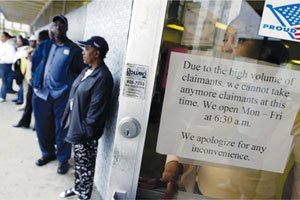 Thomas Penny, general manager of the Courtyard by Marriott Washington Convention Center in Northwest, said he felt an obligation to be a part of this program because of the wider social implications.
"Clearly when you look at 30 percent unemployment in Ward 7, and 40 percent or more in Ward 8, this poses a potential threat to the city. I was here when D.C. was the murder capital of the country ... it is the right thing to do for the city and it is in my interest, for many reasons, to play a part in this."
Penny, 36 and a native Washingtonian, said employers have some lucrative inducements to take advantage of, including the Work Opportunity Tax Credit (WOTC) which pays them $2,400 for each D.C. worker hired.
"There are rich incentives out there. I will take advantage of that. Then there are subsidized wages for residents who have been out of work for some time. Then, the city provides additional training for employees," said Penny.
The general manager said he has hired two employees associated with this program in recent weeks.
"Both candidates come with solid skills. These are individuals who were the best candidates available for the positions I was hiring for," Penny said. "It's clear that it's my job to look for the best candidates and the best candidates were from D.C. We're not compromising our standards as it relates to finding quality people. We were able to find some quality people in the city."
Penny said his grandparents relocated to Washington, D.C. in the 1940s and lived in the Shaw neighborhood in Northwest. He recalls starting in the hospitality business as a dishwasher and his grandmother served as a room attendant.
"She always told me growing up that you're either part of the solution or part of the problem," Penny said. "I have chosen to be part of the solution. I have deep roots in this industry. Our industry is one of hope and it is one where people can benefit. The program is well-positioned to hire more D.C. residents coming in if they want to work here."
"This is a great program. It is not asking too much of one business. We in the business community have an obligation to help," he said.
Despite the deplorable job numbers nationally and locally, Lang said, "D.C. is in an enviable position. We have not suffered like other jurisdictions. We have added fewer jobs but we're still adding jobs. Sadly, our residents are not prepared. We need people with an advanced education and higher technical skills. It's a failing of the schools over the years. They need to fix that."
Mallory said that the One City, One Hire plan mirrors a similar one called Hire One Atlanta. The fact that that plan successfully linked more than 5,000 unemployed Georgia residents to jobs is what caught District leaders' eye.
She said she is acutely aware that the unemployment rate is particularly high in Wards 5, 7, and 8, and added that her agency is paying close attention to those areas of the city.