Mayor Partners with Private Sector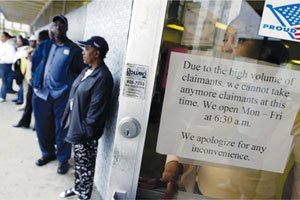 "There is a misperception that Ward 8 residents have special problems although we have a lot of unemployed and underemployed individuals," she said. "We also have a lot of good jobs, for example, a Metrobus driver. That position pays $40,000 with a GED. That's a good wage."
Mallory said District residents need to be willing to go the extra mile to secure and hold a job.
"I have found that there is this hesitancy by D.C. residents to commute. I have driven an hour to get to a job," she said. "(People also) have to be open to excelling and be open to training. We as residents have to be able to step up."
Lang - whose group represents 1,700 businesses with 70 percent located in the Washington metropolitan area - and which lobbies and works with District government and on Capitol Hill, said the past three to four years have been pretty bad.
"Unemployment went up to 11 percent, now it's 10-plus percent. Prior to the '08 timeframe, we have not had these types of numbers ever. I think (businesses) will be reluctant to expand for a while," said Lang. "I'm hoping the (American Jobs Act) will help spur employment. Large businesses are doing well but public policy has been so unstable and unreliable."
"Nationally, the president has been all over the place and there is a very toxic environment in Congress. The president has not stood up the way he needs to. One day he's bashing business and the next day he's coddling up to them. Business isn't the enemy but sometimes we have been treated like the enemy. Some businesses have done bad things, but it is not all businesses. Business is a solution."
Closer to home, Lang continued, city officials must do more to reverse the types of policy decisions and political strategies that have earned the District of Columbia last place as a city to do business.
"D.C. isn't a friendly place to do business. It ranks last in the country as a business-friendly environment with taxes and fees, and regulations which are onerous," said Lang. "We don't know which new regulations, taxes and fees will be put on (businesses) next. We're working with the mayor and Chairman Brown to try to deal with these issues."
(Barrington Salmon can be contacted at bsalmondc@yahoo.com).