Bowie State Stabbing Casts Pall Over Homecoming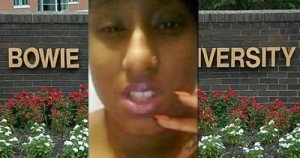 While some students at Bowie State University were trying Saturday to focus on touchdowns during the homecoming game against Livingstone College, they couldn't help but ponder the tragedy that took place on two days earlier on campus, when Dominique Frazier was allegedly stabbed to death at the hands of her roommate Alexis Simpson.
"I never thought the last time she said goodbye would be the last time she said goodbye," said Chidi Essinen, who had been friends with Frazier, 18, since last year. Essinen said that Frazier, who would have celebrated her birthday on Sunday, had her own style and was different than other young women on campus.
"It's just crazy," said Jirae Foster, a senior from Charles County, Md., who lives on the fifth floor of the residence hall where Frazier was killed. "We don't have a lot of crime, you know, just a few cases of petty theft, a few fights -- but never something like this."
Another student, Erika General, agree: "I don't think the university should be judged on one act of a student," she said.
According to university crime statistics through 2009, the highest number of incidents occurred in 2007 with 46 burglaries, nine vehicle thefts and five robberies. In terms of personal violence, aggravated assaults averaged eight a year, and three forcible sex offenses were reported in 2009.
Founded in 1865, the university sits on 295 acres on the northern edge of the Bowie, Md., a suburban community halfway between the state capital in Annapolis and the nation's capital in Washington, D.C. Bowie State has fewer than 6,000 students, only a fourth of whom live on campus. Commuters and non-commuters alike, consider it a safe haven.
Based on interviews and comments on Twitter, the studdents' biggest concerns lately, had ranged from homework to homecoming. However, all of that changed on Thursday night.
The next day, Maryland State Police charged Simpson, 19, with first-degree murder, second-degree murder and first-degree assault. Simpson is one of three students who shared a four-bedroom suite with Frazier on the second floor of the apartment-style Christa McAuliffe residential community. Originally from District Heights, Md., Simpson is being held without bond at Prince George's County Detention Center.
According to District Court documents, witnesses told police that Frazier and Simpson had been arguing during the past week. Frazier was in her bedroom and playing music on an ipod in one of the suite's two bathrooms as the students prepared to attend a comedy show that was part of the homecoming activities. Simpson shut down the iPod and responded "no" when students asked her to turn the music back on.
Frazier began arguing with Simpson in the hallway, and then they started fighting. One witness was assaulted as she tried to break up the fight, but she was able to push Simpson into her bedroom and close the door. The witnesses said Simpson returned, swinging a knife. Frazier grabbed her throat, staggered into the hall and collapsed. She was pronounced dead at about 8:44 p.m. at Prince George's Hospital Center, police said.
Some students attended the comedy show Thursday night, unaware of the tragedy on campus. As word spread, however, Frazier's death dampened spirits and raised fears. Bowie State cancelled classes and a pep rally on Friday. Instead, the university made counselors available to help grieving students, who paid tribute to Frazier during an afternoon memorial and later that evening at a homecoming fashion show.
The resumption of homecoming activities, including Saturday's parade, game and step show, has been a welcome diversion, helping students take their minds off the stabbing, they said.
"Though it kind of brought down the spirit of homecoming in a sense," Foster explained, "it also brought on a little bit more unity."