Ward 8 Democrats Elect New President, First Vice President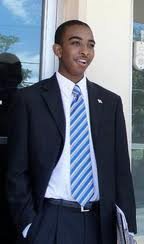 Joyce Scott, a long time Ward 8 activist, was elected president of the Ward 8 Democrats on Sat., Sept. 17 at the Savoy Elementary School in Southeast. Scott, who was the organization's first vice president, will serve as president until September 2013.
Meanwhile, there is a new star in the D.C. political landscape: 19-year-old Markus Batchelor, who was elected first vice president of the organization. His success makes Batchelor part of a new breed of young elected officials and political aspirants who have pledged to make Ward 8 a better place to live.
Ward 8 is a strong Democratic enclave and gave Barack Obama the most support in the city in terms of percentages in 2008. The ward was also the second most pro-Vincent Gray district in D.C. next to Gray's own Ward 7.
The contest between Scott and her main opponent, Natalie Williams, was in some ways a vote against leadership of D.C. Council member Marion Barry. There are others who were not comfortable with Williams as a newcomer, who registered to vote in Ward 8 on June 30.
In the full article that will be published in this week's print edition of the Washington Informer, residents explained why they voted for Batchelor and what his victory means for Democrats in the ward. Also, the issue of ugliness arose with Williams' tires being slashed, and a young minister condemned the action.
Scott urged in her victory speech that Democrats in Ward 8 to come together to move the ward forward and get the necessary resources from city leaders to operate effectively.