Joe Barber, Popular Arts/Entertainment Editor Dies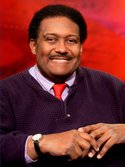 Joe Barber, Arts Critic for WTOP and WETA, Dies
WASHINGTON, D.C. --Joe Barber, longtime arts and entertainer editor/commentator for radio station WTOP, has died. Barber, 53, was found dead late on Sept. 19 at his home in Northwest.
A presence in local media for 20 years, Barber - a native Washingtonian - also provided broadcast reviews of music and theater; and was a frequent panelist on WETA's Around Town, where since 1994 he commented mostly on film. He had most recently commented on the movie, The Help.
While reports state that Barber died of natural causes, DCRTV first reported the news and Jacqueline Todt, a senior director at WETA, who oversees Around Town, said Barber had been struggling with diabetes.
She was also quoted as saying that recently Barber had "worked wonderfully, but he did complain he wasn't feeling very well.
"I think Joe had the voice of every man," Todt said. "He was not a snobby, pretentious critic. He really could share critiques which everyone could understand and relate to."
At WTOP since 1997, Barber could be heard on-air every Friday morning doing live movie reviews, as well as Saturday mornings presenting live segments covering movies, theater, video/DVD releases and the club and concert scene, according to an article the station's website.
The article also recalls Barber's infectious laughter, kindness and patience.
"Joe was a warm, funny presence in the WTOP newsroom every Saturday," said Jim Farley, WTOP's vice president of news and programming. "He loved movies, the stage and music. You could ask him about any movie; he was a walking encyclopedia of movie knowledge and trivia."
"He will be truly missed by his co-workers and all WTOP listeners."