Cancer in your 'Pocketbook'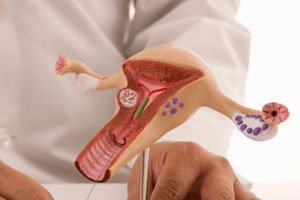 It's the female cancer few will talk about, as if talking about it will make it more deadly - or contagious - or all of the above (and neither is true).
Ovarian cancer.
And it's the cancer that Pocketbook Monologues creator and St. Louis native Sharon K. McGhee is in her third fight against in the last two-and-a-half years.
The word "pocketbook" was coined a couple of generations ago by our most senior and seasoned African-American sisters pertaining to those most discreet subjects of a sexual nature.
"And there are some rules that went with it -keep it closed, don't people ramble all in it--make sure your pocketbook is clean." McGhee said.
McGhee created the Pocketbook Monologues to talk to Black women and girls about taking responsibility for their own sexual health, following the design of Vagina Monologues author Eve Ensler. Sold-out performances in Chicago where McGhee currently resides preceded her most challenging role yet.
"It also started a new chapter in my life -- I was diagnosed [in 2009] with stage 4 ovarian cancer, three weeks before I got the phone call to be a part of the Housewives of Atlanta franchise," McGhee said. Her decision - chemotherapy the next week or jump on the creative opportunity of a lifetime to deal with a cause she is so passionate about - the HIV epidemic in Black women.
"So what's a girl to do? I tell you what I did. I put my wigs in a suitcase and my Vicodin in my overnight bag and we went down to Atlanta and filmed a wonderful show," she said. "But what people don't know, while it all looked great on television, it was the roughest time for me, because in another three weeks, I had another chemotherapy treatment."
There are three types of ovarian cancer, depending on what type of tissue is involved. Epithelial cells cover the ovaries, the two egg-shaped organs on either side of a woman's reproductive system. Germ cells create the eggs inside of the ovaries. Stromal cells are the tissue which holds the ovaries together and makes most of the female hormones, estrogen and progesterone.
The American Cancer Society (ACS) says higher risk factors for the most common type of ovarian cancer (epithelial) include:
Age- half of all these cancers are in women over age 63Obesity- an ACS study found a higher incidence and a higher death rate among obese women
Fertility drugs, male hormones, or androgens
Estrogen therapy after menopause
Family history of ovarian, breast or colorectal cancer
McGhee said it almost felt like she was getting her blessing in the middle of her hurricane.
"God was showing me this balance of my life and what it is to actually live with a cancer diagnosis, deal with everything that goes with it - the surgery, the depression ... to understand this diagnosis happens to a lot of people and that you can find your will through God and through perseverance to live and thrive with it," McGhee said. "I never wanted the cancer to have me."