Del. Braveboy Holds Annual Conference on Prince George's Housing Market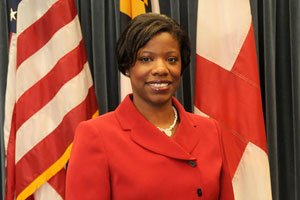 Levi Connally and his family have lived in Prince George's County for several years. Connally says he moved to the county from the District just before the housing market began to tank.
"When I moved into the county the real estate market was booming up until that point," Connally said. "And then six months to a year after we purchased our brand new home, we started noticing a bunch of foreclosures in our neighborhood."
Connally said his property value has been affected by the number of foreclosures, but with no plans to sell, he's still cautiously optimistic that things will turn around.
"We know we could have gotten the home we purchased for significantly less if we had waited," he said. "We got the value for what we wanted at that time, but we realize we'll get less money if we were to sell."
More than 300 people, like Connally, turned out for the Prince George's County Community Association Conference, on Sat., Sept. 17, to find out about what options were available to them to help with issues such as being underwater with their mortgages, to dealing with home owners associations. Maryland State Delegate Aisha Braveboy (D-District 25) hosted the event at Prince George's County Sports and Learning Center in Landover.
"We lead the state in the number of foreclosures," Braveboy said. "In my district, we have one of the highest foreclosure rates in the county."
"Today was great today. Lots of representatives from housing associations, civic associations and even folks from other jurisdictions like Howard County came to get good information on new laws and government resources, both state and local which are available," Braveboy said.
Rep. Donna Edwards (D-MD.) Prince George's County Executive Rushern Baker and Lieutenant Governor Anthony Brown also participated.
Braveboy, a broker/consultant for the Blue Chip Brokerage Group, a commercial and residential real estate service in Mitchellville, held her one-day conference in response to the primary issues most often expressed by homeowners including access to reliable services, knowledgeable experts and up-to-date information on the area's housing market. This year's conference also included workshops for homeowners in condominiums and cooperatives, and issues related to civic associations.
"The civic and home owner's associations help keep residents empowered. These organizations can let property owners know what happens in their neighborhoods when a property is foreclosed and [how to] continue relationships with the new property owner," she said.
Genevieve Harris is Director of Operations for Sage Property Management in Riverdale. Her organization's information booth and a video presentation on home-ownership were featured during the event. "We're here primarily to advocate so that people know their rights and responsibilities when it comes to their homeowners association," Harris said.
"There are a variety of economic issues around [ what it takes to rebuild communities] during a recession and we are here to educate people about those things such as foreclosed town-homes that become rundown or civic associations and [communicating with ] condo boards that are non-responsive to homeowners concerns for example," Harris said.
The program included multiple breakout sessions, a free community association luncheon and an exhibit hall with an array of vendors including Quiza Nichol's company, Quiza Management located in Bowie, Md.
"We came to help educate people about the different services that are available to homeowners. This entire event was put together to raise the awareness, and help people understand the responsibilities and benefits of home-ownership," Nichols said.
For more information on homeownership initiatives, outreach and education is available on the county's website. http://www.princegeorgescountymd.gov