Scott Slate Wins Ward 8 Democrats Posts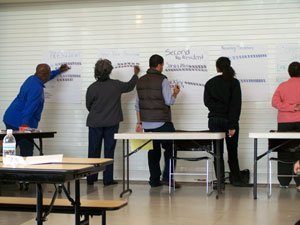 Michael Shuler could hardly wait to participate in the Ward 8 Democrats Biennial Convention, which took place at Savoy Elementary School in Southeast on Sat., Sept. 17. A 2011 graduate of Ballou High School in Southeast, he wanted to make sure that his vote counted when it came to who should run the Ward 8 Democrats for the next two years.
"I am here to vote for Joyce Scott, Sandy Allen and Darryl Ross," Schuler, 19, said. "I believe that they can make things happen. I really want Markus Batchelor to win because he has good qualities and I like the fact that he put himself out there to be a candidate."
Shuler got his wish. The slate led by Scott won all of their races in a higher than expected turnout.
Scott, a long time resident of Ward 8 and the first vice president of the Ward 8 Democrats, defeated ward newcomer Natalie Williams for the presidency, 203-130, with a handful of votes going to a minor candidate. Batchelor won his position, first vice president, with a commanding 206 votes and former D.C. Council member Sandy Allen, a candidate for second vice president, received 250.
Ward Democratic activists Pat Smith, Leona Martin were elected recording and corresponding secretary, respectively, while Ross was re-elected as treasurer.
The Ward 8 Democrats, like other ward party organizations in the District, is designed to organize residents to support Democratic candidates and policies. The organization feeds into the D.C. Democratic State Committee, which serves as the District's arm into the Democratic National Committee.
Some Ward 8 members have served on the executive committee of the Democratic State Committee and a few, such as Allen, have gone to Democratic National Committee conventions as delegates and/or alternates representing the District.
The ward in general has long been a Democratic enclave. In the Feb. 12, 2008 Democratic presidential primary, Barack Obama received 85.44 percent of the ward's vote, the highest percentage in the city.
In the Sept. 14, 2010 Democratic Party primary election for mayor, Vincent Gray won the ward with a substantial 82.10 percent over Mayor Adrian Fenty and others. The Ward 8 percentage was surpassed only by Gray's Ward 7, which gave him 82.26 of its votes.
In the election for its officers, Ward 8 Democrats president Jacque Patterson said that the ward has 32,000 registered as party members and that 383 ballots were cast for the contest.
"That is pretty good," Patterson, 46, said. "Two years ago, we only had 100 people vote in the officer elections. That shows that people are concerned about the direction of the party."
Of the 383 cast, 350 were counted. Some ballots were considered "special" because of issues regarding residency while others could not be counted because of multiple votes for a candidate in the same race and other irregularities.
The election was conducted by members of the D.C. Democratic State Committee and voters were verified by official rolls of the D.C. Board of Elections and Ethics. The results of each legal ballot were called out and a member of the Democratic State Committee or a volunteer marked each time a candidate got a vote.