Scott Slate Wins Ward 8 Democrats Posts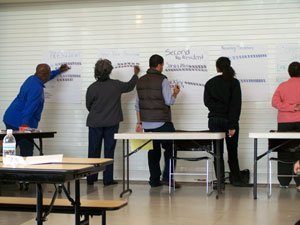 The process of tallying took nearly two hours and when it was announced that there were only 10 ballots left to record, the 50 people in the Savoy cafeteria let out a collective sigh of relief.
The Ward 8 Democrats are known throughout the city for its passionate political debates on such issues as same-sex marriage and the work of some of its noted members, such as activists Phil Pannell, Wanda Lockridge and Mary Cuthbert, an advisory neighborhood commissioner. Recently, the Ward 8 Democrats has mentored young elected officer holders and political aspirants such as Ward 8 State Board of Education Member Trayon White, D.C. Shadow Representative candidate Nate Bennett-Fleming and 2012 Ward 8 D.C. Council member hopeful Darrell Gaston.
Batchelor, 19, a student at George Washington University in Northwest, is the latest victor in the ward's youth political movement. Young adults were enthusiastic about Batchelor's potential as a city leader.
"I supported Batchelor," Keith Jones, of Fairlawn, said. "I believe in his leadership. He is young and new and he knows how to interact with the residents."
Jones, 26, said that Batchelor "has a vision for the city." Stefan Lockridge, the son of Wanda Lockridge and the late former Board of Education member Calvin Lockridge, would not disclose who he voted for in the Scott-Williams contest but said that young adults should play a role in the ward's politics.
"There are a lot of changes taking place in the ward and young people's voices should be heard," Lockridge, 25 of Congress Heights, said. It is interesting to note that Lockridge received one vote for corresponding secretary even though he was not a candidate.
Batchelor was humbled by his election.
"This is a new Ward 8 Democrats and we want to get everybody involved," he said. "We want to say that everyone has value in this community and young people should be a part of the political process."
Markeater Gay supported the Scott slate because she said it represented change.
"Joyce Scott is for the community and I know that for a fact," Gay, 32, of Naylor Road, said. "It is time for change in the Ward 8 Democrats and she will see to it that change takes place."
Williams was supported by D.C. Council member Marion Barry (D-Ward 8), Patterson, Lockridge, Advisory Neighborhood Commissioner Anthony Muhammad and long time activist the Rev. Anthony Motley. While many recognized Williams' skills, there were some who were concerned that she has only lived in Ward 8 for one year.
Others were concerned about her closeness to Barry, whom she has worked for in the recent past. The contest between supporters of Scott and Williams got heated at times, with loud arguments at events and an incident in which Williams' tires were slashed.
Those types of incidents are not necessary, said the Rev. Michael Bell Jr., the son of Allen Chapel A.M.E. of Southeast pastor the Rev. Michael Bell Sr.
"You have to respect what others are doing," Bell, 26, of Baltimore, said. "You can express how you feel without being violent."
Scott and Williams embraced several times as the votes were being counted. Scott said that Williams has a "good skills and qualities" and she would be "valued as a Ward 8 Democrat."
"We have to stop the ugliness," she said. "It will stop us and hold us back. No matter what side you are on, we have to work together so that we can ask [city leaders] for what is rightfully ours."