The Doctor is 'In'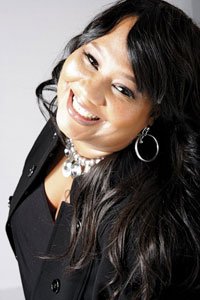 Whatever the key is to achieving unrelenting theatrical success, Angela Dunlap has found it. To industry insiders, Dunlap is most commonly known as "The Play Doctor". Having conceptualized and perfected the secret to creating theatrical magic, she is an infinite creative source of knowledge on the inside track, with a finger on the pulse of the African-American community. The Washington Informer's Stacey Palmer recently sat down with The "Play Doctor" Angela Dunlap to hear all about her love of the theater, an increasingly diverse audience, and her new play, "Why Good Girls like Bad Boyz?"
INFORMER: You are known in the industry as the Play Doctor, which is a tremendous compliment. Does this put stress on you to create "magic" every time you produce or work on a play?
DUNLAP: Well....yes. It's always a challenge, but it's what I love to do. It's certainly stressful to a degree. But we love to challenge ourselves and it's great to watch the growth over the years.
INFORMER: Your audience is primarily African-American. Do you envision a more diverse audience in the future? Are you striving for one?
DUNLAP: I think that [diversity] is happening naturally in the world today. Things that are
"urban" are becoming more popular anyway. I am definitely seeing more diversity in terms of attendance at the plays. We just did "Church Girl" in Toronto and it was refreshing to have a really diverse audience there. I think Tyler Perry is enjoyed by all and as a result diversity is occurring across the board with our urban theatre.
INFORMER: Your new play "Why Do Good Girls like Bad Boyz" poses a question that has been asked for quite some time. Do you feel your play answers this question?
DUNLAP: I do. I feel that it's the answer from one particular family's perspective. I feel like the answer is different depending upon where a woman is in her life. When I am asked the question, I always say "blame it on Eve". It's something about us wanting what we are not supposed to have. Eve (from the book of Genesis in the Holy Bible) was in a beautiful garden with all kinds of fruit, but she wanted the one she was not supposed to take.
INFORMER: Which one of your plays do you feel had the most personal relevance?
DUNLAP: It would be this one. It would definitely be "Why Do Good Girls like Bad Boyz?" I had done a lot of play "doctoring" for playwrights, but "Why Do Good Girls like Bad Boyz?" is the first one I did independently. I worked with a young lady named Wendy Berry, but it was certainly my concept, and inspired by my life.
At Wayne State I hooked up with a bad boy. I found myself heading down a wrong path. God spared me because you know they say "God protects babies and fools" and I was definitely being a fool. I found myself living a very dangerous lifestyle and fortunately. My family and my support system prayed with me and spoke to me and pulled me out.