Obama Delivers Fiery Message at CBC Awards Dinner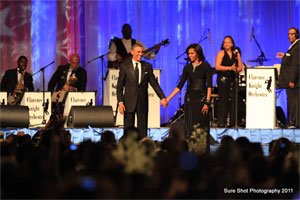 "Stop Complainin', Stop Cryin', We Have Work to Do!"
President Barack Obama delivered a stirring message to about 3,000 people who gathered this weekend for the Congressional Black Caucus Foundation's 41st Annual Legislative Conference Phoenix Awards Dinner.
During the black-tie event at the Walter E. Washington Convention Center where actor and activist Hill Harper and WJLA-TV veteran evening news anchor Maureen Bunyan served as emcees, Obama told the largely African-American audience that the time had come to join him in his fight for jobs.
At times, the president sounded more like a fiery Baptist preacher rather than a politician whose approval rating (currently below 50 percent) continues to take steady hits in the wake of widespread unemployment and a poor performing economy.
"Take off your bedroom slippers. Put on your marching shoes. Shake it off. Stop complanin'," Obama demanded." Stop grumblin'. Stop cryin'. We are going to press on. We have work to do."
While the national unemployment rate hovers at 9.1 percent, joblessness among African Americans stands at 16.7 percent, with more than 40 percent of black children living in poverty. As a result, many blacks feel left out of the administration's efforts to boost the economy and provide jobs to his most reliable support base.
Obama acknowledged the disappointments.
"In these hard years, we have won a lot of fights that needed fighting. We've done a lot of good. But we've got more work to do. People are still hurting," Obama said. "So many people are still barely hanging on, and too many people in this city are still fighting us every step of the way."
Obama is no stranger to the Phoenix Awards, having been honored in 2008 while he served in the U. S. Senate. Among honorees at Saturday's dinner were Environmental Protection Agency Administrator Lisa P. Jackson; athlete and humanitarian George E. Foreman; the Rev. Dr. Joseph E. Lowery; and U.S. Representative and civil rights activist John Lewis. Obama also called on their support in his thrust to create the jobs needed to put more Americans back to work.
Photo by Shevry Lassiter."We have to do more to put people to work right now," said Obama. "We've got to make sure that everyone in this county gets a fair shot and a chance to get ahead," he said. "And I know we won't get where we need to go if we don't travel down this road together. I need you with me."
Even with bad acoustics in the cavernous dinning hall, the crowd appeared to have heard the message loud and clear, as Obama was repeatedly interrupted with resounding rounds of applause and cheers.
One of those cheering was District Mayor Vincent C. Gray. Seated in the VIP section with many of the city's leaders and celebrities, Gray said he was happy the president had come out to convey his message to the Congressional Black Caucus (CBC) and other disgruntled Americans.
"I think the president said what he needed to say and said it in a way that needed to be heard," said Gray.
The dinner, which also honored the six surviving members of the CBC, culminated a four-day gathering of local, state, regional and national policy makers. Overall, thousands of business and community leaders, activists and other stakeholders in the African American community attended the conference.