"30 Americans" at the Corcoran Gallery of Art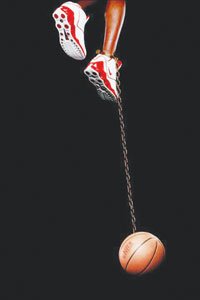 In 1930, the late American artist Stuart Davis wrote in a letter responding to art critic Henry J. McBride, "I am as American as any other American painter. I was born here, as were my parents and their parents before, which in fact makes me an American whether I want to be or not... Over here we are racially English-American, Irish-American, German-American, French, Italian, Russian, or Jewish-American, and artistically we are Rembrandt-American, Renoir-American, and Picasso-American. But since we live here and paint here we are first of all, American."
Davis defends the use of American Art, but neglects to mention one group of American artists, African-Americans.
The exhibition "30 Americans" opening at the Corcoran Gallery of Art October 1, is a showing of 31 of the most important African-American contemporary artists of the last three decades.
The title, "30 Americans," to some, may signal a movement away from previous cultural separatism. All of the works of art in this exhibition belong to Don and Mera Rubell, Florida-based collectors, who have been collecting art, including African-American art, since the 1960s.
"We decided to title the show 'Americans,' rather than 'African-Americans' or 'Black-Americans' because nationality is a statement of fact, while racial identity is a question each artist answers in his or her own way, or not at all," the Rubells said in a statement.
The Rubells said of their thought process in bringing the exhibition together. "Approximately three years ago, we found there was a critical mass of emerging African-American artists, and began the process of understanding what seemed to be a new movement. When we asked these artists about their influences, we heard some of the same names over and over: Robert Colescott, Renee Green, David Hammons, Barkley Hendricks, Kerry James Marshall, Gary Simmons, Lorna Simpson, Kara Walker, and Carrie Mae Weems. We had been collecting almost all of this older generation for decades. Perfect conditions for a new exhibition."
In addition to the artists named, Nina Chanel Abney, Noah Davis, Rashid Johnson, and Shinque Smith, are among the other artists selected.
Henry Thaggert, 46, a local art collector who was a member of the advisory committee for this exhibition, has been collecting art since 2004 and considers himself to be one of the "new breed" of contemporary art collectors, young and African American.
"I think every collector needs to have an emphasis, and some limiting principles, and for me, I really want to focus on the works made by young African Americans," Thaggert said.
"These artists were selected for this show on their own right, not because they were African American, but because they were artists making work in a particular style, and they are excellent examples of that particular style."
More than 70 paintings, sculptures, videos, photographs, and drawings comprise the exhibition. There are a wide variety of styles represented, from the paintings by the late Jean-Michel Basquiat, whose abstract compositions reflect the urban graffiti-rich environment in which he painted, to the heroic-like portraitures painted by Kehinde Wiley.