"30 Americans" at the Corcoran Gallery of Art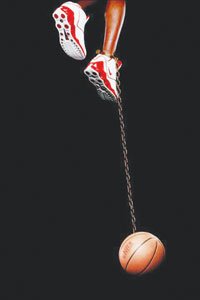 Artist Kalup Linzy's videos and paintings explore individuals' sexuality, and the photographs by Hank Willis Thomas are visual interpretations of corporate exploitation in America.
As with any contemporary art exhibition, no matter what the cultural "category", these pieces evoke all sorts of emotions, from joy to pain, laughter to anger, curiosity to sorrow. Most contemporary artists hope that their pieces will stimulate conversation and reactions beyond, "I like it" or "I don't like it," and these works of art are no different.
"30 Americans explores how each artist reckons with the notion of identity in America, navigating such concerns as the struggle for civil rights, sexuality, popular culture, and media imagery," said Sarah Newman, curator of contemporary art at the Corcoran and curator of the presentation at the Corcoran. "By focusing on the way that individuals carve out their own place in the world, it speaks to the American experience more generally."
Only American art history and the way it might be written will actually tell if art by African Americans will finally be included in the spectrum of American Art, but for now the exhibition "30 Americans," offers viewers American Art. The exhibition "30 Americans" will be on display at the Corcoran Gallery of Art begins October 1 through February 12, 2012.