901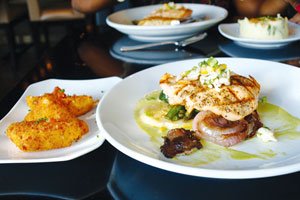 Sexy, Sophisticated, Sharing... So Good!
As the District becomes more diverse, so, too has its palate ecology. As discriminating tastes and a desire for more flavorsome meals become the norm, some areas, including the area surrounding the Walter E. Washington Convention Center, have become home to a new breed of haut dining. In addition to lite fare and fast food hubs, the area now boasts restaurants providing some of the most eclectic dining experiences in town. In the last two years, I have explored Zola's, Gordon Biersch, and the Hotel Monaco's Poste Moderne Brasserie, but one of the most overlooked restaurants offering haut cuisine is the 901 Restaurant, located inside the Renaissance Hotel on 9th Street, Northwest.
The ambiance is sleek and modern, with cozy seating that makes the space as perfect for intimate meals for two, as for dinner parties of ten or more. Close to the Gallery Place metro station, 901, makes for a perfect happy hour spot for appetizers and drinks before heading home. Their theme, Sexy, Sophisticated, Sharing, is more than fitting.
The kitchen is managed by Executive Sous Chef Shawn Espy and Executive Chef Thomas Hall, who have designed a menu of succulent combinations. Their menu is divided into categories: By Land, By Sea, Sharing (Appetizers), Salads, Sandwiches, and Pastas. Informer Lifestyles writer Stacey Palmer joined me for a delightful tour of the menu, which saw us sampling a bit of something from every category.
Sharing, was the Lite fare menu and on it, it was hard to pass over the Crab Cake Sliders. Served with a Creole mustard on sweet potato buns, the sliders were a surprising departure from the beef burger or chicken sliders most restaurants offer. Few establishments make sandwiches using sweet potato rolls, which is a shame. Light, with just a hint of sweetness, the bread bodes well with those who want a vitamin A boost. Sweet potatoes tend to raise our blood levels of vitamin A. In several studies, sweet potatoes were found to contain between 100-1,600 micrograms (RAE) of vitamin A in every 3.5 ounces--enough, on average, to meet 35% of all vitamin A needs, and in many cases enough to meet over 90% of vitamin A needs (from this single food alone). But don't be fooled. Great things came in four, small packages! The crab cakes were fitted tight with lump crabmeat and seasoned to perfection. Also not to be missed among the lite fare items on the menu is the Japanese Tuna Tempura with avocado mousse.
By Land would not be the same without the Grilled Filet Mignon with Spinach potatoes, grilled asparagus, and sauce charcutiere. With a Ruth Chris within walking distance, 901 had to pull out all the stops on their filet. Espy and Hall produce a filet is both dense and juicy.
Portions are ample and the presentations speak volumes about just how intimate the Espy and Hall are with their food. Almost too appetizing to eat! Paired with the Crab Cake Sliders, you can actually get a little "Surf & Turf" action going.{gallery}/901{/gallery}