Baker Cites Progress for Prince George's $50 Million Business Fund Plan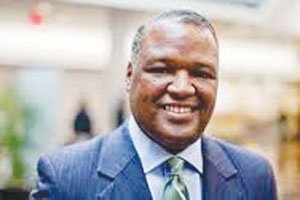 Details provided at business forum in Upper Marlboro
In the picturesque setting of the $100 million Marlboro Ridge luxury home development by Toll Brothers in Upper Marlboro, and speaking to an overflow crowd from a second-floor room overlooking lush lawns and a swimming pool, Prince George's County Executive Rushern L. Baker III reemphasized the need at a business forum for his $50 million Economic Development Incentive Fund to raise the county's economic prosperity to a new level.
Well more than a hundred business owners and executives heard Baker, Roland L. Jones, head of the county government's minority business development unit and other staff members provide details of the plan and update listeners on its progress in the County Council process.
The fund plan, announced in March, ran into headway when presented to council members who questioned if there was enough oversight in the process to safeguard the dissemination of county funds.
Monday, after Baker and others pointed out the plan's details - the average loan to a business is expected to be about $250,000, for example, and the time frame is to be efficient and not drag on unnecessarily --Baker said significant progress has been made in revamping the original plan to suit council members. He urged business people to "go out there and call your council members to pass this bill right now."
Creating an "epicenter"
Baker said in March, "It is imperative for the future growth of Prince George's County that we expand our economy and our commercial tax base. With the proposed EDI Fund ... we have the foundation for Prince George's County to create jobs and become the epicenter of progress and prosperity throughout the region and state."
Monday Baker added that, "The idea is to take this money and invest it in the long term growth of the county...it really is to give us a competitive advantage."
Baker and staff members pointed out how 60 percent of county residents go outside of the county to work, and the need to change that with more businesses providing jobs within the county. They also pointed out the need to boost county revenues due to declining property taxes because home values have plunged during the recession, by adding more commercial development to provide tax revenue, to provide a balance, as is done in other jurisdictions such as Montgomery and Fairfax counties.
Baker, took a moment during his talk to laud the announcement that day that the state Department of Housing and Community Development's headquarters in Crownsville would move to a planned 700,000-square-foot, mixed-use development at the New Carrollton Metrorail station, bringing more than 300 workers. It is to be the first state agency headquarters in Prince George's County.
Many business owners in the crowd Monday said before the forum they were not familiar with details of the economic development incentive fund, but afterward said the plan was a good idea. Dale Dykes, president of TouchAV, an audio video and automation company Bowie, said, "I think it's a step in the right direction. For me what's very important is I didn't think past administrations really understood small business ... I think they [Baker's economic development team] get that and they understand the need for commercial development tax revenue."