Fela! Shines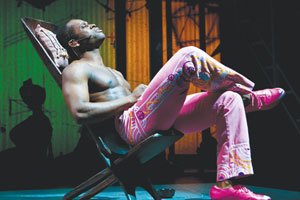 Exciting hoopla and advanced kudos can make it difficult for the recipient of such attention to seem deserving. Gladly, that is not the case with, Fela! the acclaimed Broadway production currently at the Shakespeare Theatre Company's Sidney Harman Hall.
Upon entering the theatre just minutes before the start of the show, one is delightfully assailed with a presentation of visual and aural stimulation, which serves as an appetizer for the main course. It is also a harbinger that you may be in store for something different from anything you have seen before. That is in fact the case because Fela! Is not a traditional musical drama with dialogue and choreography? It stretches the boundaries of musical theatre to new parameters and does so with an exuberance and intensity that is breathtaking.
Fela! tells us about the life of the legendary Nigerian musician Fela Anikulapo-Kuti, the son of a deeply committed and forceful social and political activist mother, Funmilayo, who was an indelible inspiration to her son.
The story is relayed with minimal interactive character dialogue and is fundamentally conveyed through Fela's epic, quasi-comedic narrative monologue. But most profoundly it is the urgent, pulsating rhythms and emotionally-wrenching lyrics of Fela's music, combined with devilishly sensual, eye-popping choreography that moves the story forward with a breadth and scope that is powerful and entertaining. Wear something comfortable when you go see this show because you will need to feel able to respond and move to what is put before you.
Afrobeats, the name used to describe Fela's music, was the creative and artistic component that fused with his growing sociopolitical awareness and sense of responsibility instilled in him by Funmilayo's example. It ignited a generation and like Jamaica's Bob Marley, he used it to defy corrupt and oppressive governmental and military forces. His music and performances were his lifelong devotion to the struggle for freedom and human dignity. And like Marley, the significance of his vision reached global proportions and was heard and enjoyed around the world, giving him a power and presence that made him a worthy foe of what he fought against.
This production has many members of the original Off-Broadway and Broadway casts and most notably the originator of the role of Fela!, Sierra Leonean performer Sahr Ngaujah. He is truly remarkable and so completely engages you in telling his story that it is easy to buy into the device of sitting in on an actual Fela! concert in his Nigerian Shrine Club. The ensemble with which he is surrounded: the nine, onstage musicians (representing the various incarnations of his band), the performers portraying his mother and other incidental characters throughout his life and, with tremendous gusto and blood-heating exhibition, the dancers, are all highly accomplished and thrillingly entertaining!
Amazingly directed and choreographed by the eclectic, Tony-Award-winning Bill T. Jones, Fela's story is a triumphant tale of courage, passion and love. All of the elements brought to bear to deliver this phenomenon: the aforementioned rendering of Fela's actual music and Jones's choreography and staging, the costumes and technical design are unbelievably topnotch. The incorporation of multimedia communications underscores the timelessness and urgency of this story and adds to its potency.
Fela's name means "he who shines with greatness." This presentation of his extraordinary life is a true testament to his name's appropriateness. It is also another shining example of how social and political change can be greatly transformed by artistic and creative expression.
Give yourself the pleasure of experiencing this show, which runs through October 9. May the Orishas (Yoruba gods) continue to shine upon Fela!