Black Veterans to Release Obama Speech Collection
12/14/2012, 1:37 p.m.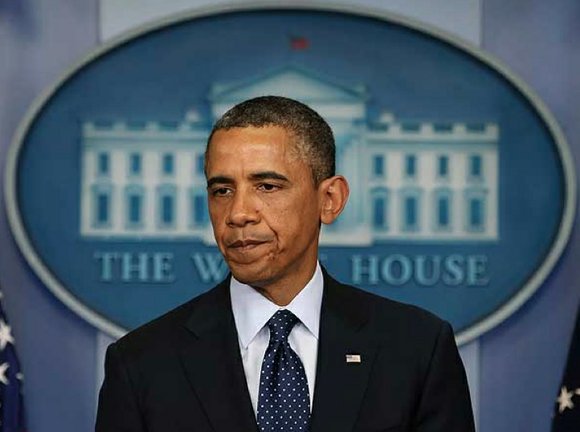 The National Coalition of Black Veteran organizations has joined the Alaska-based BlaqueIce (pronounced: black ice) Productions in a major fundraiser to construct a monument in in the District of Columbia in honor of Col. Charles Young, the legendary soldier/diplomat who led America's renown Buffalo Soldiers.
The Trilogy CD collection includes four historic speeches by President Barack Obama, with original scores composed by BlaqueIce producers. The remarkable oratory - which defines America's political maturation and innovative compositions that exemplify its creative essence -- will be a must-have for generations to come.
"Our hope is to demonstrate progress in achieving the historical ideals of African-American service men and women by melding the oration of President Obama, with the history of our participation in the defense of the nation," said Charles Blatcher, chairman of the Veterans Coalition. "The merits of our services are the cornerstone of civil rights and made possible this historic moment in American History."
The three-disc set features the speech Obama delivered upon his acceptance of the Democratic nomination on August 28, 2008, at Invesco Field in Denver, Colorado; his historic victory speech delivered at Chicago's Grant Park following his election on November 4, 2008; his swearing-in speech delivered on January 20, 2009; and, a bonus track of Obama's speech on race relations that without question framed our national outlook on race and politics.
"We at BlaqueIce believe the service of our many African-American military personnel, marks a journey of unparalleled sacrifice and triumph as we have traveled throughout time from slavery to the White House," said Leonard A. Lawson, BlaqueIce founder and owner.
"For this we are eternally grateful! I cannot express enough gratitude in being asked to participate in establishing a monument honoring the legendary Col. Charles Young in our nation capitol. We are honored to contribute a portion of the proceeds derived from the sale of the collection to support the monument project."
Christal Rogers, president of Precise Plans, added that prior to a recent introduction, they had not been aware of the history of Young. "After we heard about him, we agreed that this is a long overdue and worthwhile undertaking," Rogers said. "It is not every day an opportunity presents itself to honor the past and contemporary history as it does with this project."
The Trilogy collection is slated for release in 2013.
Source: National Veterans Coalition