AKA to Uphold King's Legacy through Global Dialogue, Dinner and Service Activities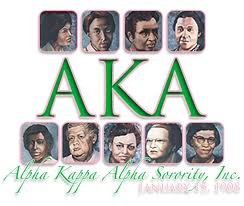 Two-Days of Service Support Signature Grant from HandsOn Network
CHICAGO -- In the spirit of promoting peace, inspiring community service, and upholding Dr. Martin Luther King's Jr.'s legacy, Alpha Kappa Alpha Sorority will lead two signature events. They will take place on Jan. 15, the eve of the holiday in King's honor, and on Jan. 16, the national day set aside to celebrate King's birthday.
The events -- America's Sunday Supper and the Martin Luther King, Jr., Day of Service -- are aimed at providing a forum to engage the community in promoting dialogue to grapple with challenges that represent barriers to progress. The overarching goal is to effect change in the spirit of unity.
According to Alpha Kappa Alpha's international president, attorney Carolyn House Stewart, the Sunday Supper provides a forum where the Sorority can work jointly with those it serves to find solutions to challenges that impact them. Similarly, by working together during the Martin Luther King Jr., Day of Service, Alpha Kappa Alpha will fortify its already strong bonds to the community.
More than 20,000 members worldwide are expected to host the dinner and dialogues and participate in the Martin Luther King, Jr., Day of Service activities. The initiative is being planned and implemented under the sorority's International Program Committee, whose chairman is attorney Sharon Bridges. Wanda King is the project manager.
The King-inspired initiatives are being made possible through a $15,000 signature grant from the Points of Light Institute affiliate HandsOn Network, a Corporation for National & Community Service intermediary grantee.
The goals of the award are to honor the life and legacy of Dr. Martin Luther King, Jr.; mobilize volunteers to serve; generate civic dialogue; and inspire continued community service. Through the six sub-grants awarded - including Alpha Kappa Alpha - the HandsOn Network is expected to mobilize more than 185,000 volunteers and impact more than 500,000 people.
Stewart said the sorority's 260,000 members in 975 chapters worldwide have always used the occasion of King's birthday to lift up the civil rights hero's memory through service and the grant directly parallels its King Day service mission.