Gray, District Public Safety Officials Welcome Drop in Homicides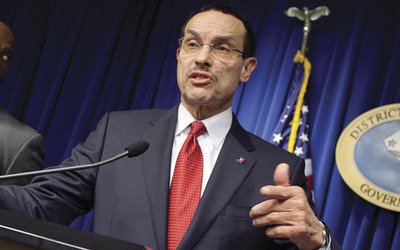 With Murders Down to Lowest in 48 years, Plan in Place to Improve Police Service
Mayor Vincent Gray and Police Chief Cathy Lanier, along with other District officials have announced a plan to improve the delivery of police services in D.C., and highlighted crime-fighting successes from 2011 - including a significant decrease in murders compared to the same period last year.
As of Dec. 30, there were 108 murders in the District, putting the city on pace to have its lowest number of homicides in nearly half a century.
"While a single murder is one too many, this figure shows our city is on the right track," Mayor Gray said. The days when the District was known as the nation's 'Murder Capital' are long behind us, and the plans we [announced] will enable our police to continue this progress."
In 2011, Chief Lanier launched an effort to realign patrol-service boundaries because of current and projected future imbalances in patrol-district workload. "With increasing business and residential development and the thriving tourist and entertainment areas throughout the city, workload in the police districts has shifted significantly since the last boundary realignment was done in 2004," said Lanier. "The goal of the boundary realignment is to improve police service to the city."
The city is divided into seven Police Districts, each of which is subdivided into five or more Police Service Areas (PSAs). The realignment plan, which will go into effect on Jan. 1, is based on evaluation of crime, calls for service, development and road-construction plans, community concerns and other factors. The new boundaries will distribute crime and calls for service almost equally among the districts.
While some police districts are changing more than others, all are undergoing some change. In addition, under the new boundaries, the largest PSAs will be reduced in size, with the total number of PSAs increasing from 46 to 56.
"All of this means more efficient police services for residents, as well as those who work here and visit our city," said Gray. "I want to commend Chief Lanier and the men and women of the Metropolitan Police Department (MPD) for the progress they have made in combating crime."
MPD has experienced continued success in driving down homicides. This year's homicide total will be the lowest since 1963, the last year the District had fewer than 100 homicides. For the year 2011, with 108 homicides to date, the District has seen an 18 percent decline in homicides over last year's total of 132. MPD's homicide case-closure rate is currently 94 percent, which is well above the national average and an increase over the year before.
"Our positive results can be attributed to proactive patrol measures and a collaborative approach with partners in the community and the criminal-justice system," said Lanier. "A key to the success was convincing all partners that we could prevent the next homicide through immediate and coordinated action. The Department has also improved its use of technology, which helps detectives analyze data and solve crimes. We are continuing to close homicide cases quickly, which removes violent offenders from the streets and is essential in our efforts to focus on gang violence."