Gray, District Public Safety Officials Welcome Drop in Homicides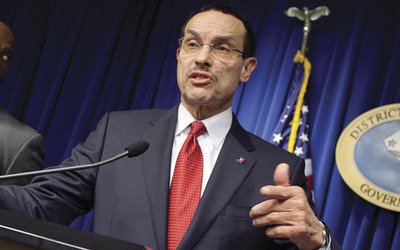 Lanier also highlighted the dramatic reductions in homicides in the portion of the city east of the Anacostia River, which has long had the dubious distinction of leading the District in homicides. Before 2005, there were consistently more than 100 homicides annually in the police districts east of the Anacostia.
So far this year, homicides east of the river have been reduced by half. "There are still too many old wounds in families and communities that have survived homicides," Lanier said, "but dramatically reducing the number of new homicides - together with solving past homicides - helps families and communities to heal. This reduction certainly supports the resurgence of many of our neighborhoods east of the river."
MPD also had successes this year in removing drugs and guns from the city's streets. A joint operation between MPD and federal partners led to the arrests of 70 suspects for the possession and distribution of firearms and narcotics with a street value of more than $7.1 million.
The operation - which involved MPD and federal partners at the Bureau of Alcohol, Tobacco, Firearms and Explosives; the FBI; the Immigration and Customs Enforcement Agency; the Drug Enforcement Administration; and the U.S. Attorney's Office - was initiated to disrupt and dismantle illegal firearms trafficking, drug trafficking and fencing operations within the District of Columbia.
"This year we celebrated the 150th Anniversary of the MPD, and we continue to look for creative ways to fight crime in our city," said Chief Lanier. "We are looking forward to great things in the New Year."