Gray, Council Members to Take Voting Rights Issue to New Hampshire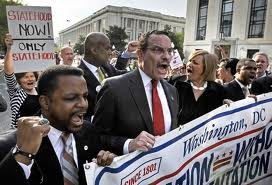 In their determination to achieve statehood for the District of Columbia, Mayor Vincent Gray and at least two City Council members are headed this month to Concord, New Hampshire -- during the critical presidential primary -- in hopes of gaining support of state politicians.
The trip, which is being organized by City Council Chairman Kwame Brown, is intended to force members of Congress to pay more attention to situations taking place in their home districts. In addition, District officials are aiming for the attention of state lawmakers who might sympathize with D.C.'s long and tedious efforts to achieve voting rights in Congress.
According to reports, at-large council members Michael Brown and David Catania will testify Jan. 12 before New Hampshire state legislators.
While another trip revolving around the matter has been slated for later in Florida, Kwame Brown is expected to make additional announcements this week surrounding the New Hampshire trip, including the roster of officials who plan to attend.
The trip appears to reinvigorate efforts spearheaded by then-mayor Adrian Fenty and City Council members who also traveled to New Hampshire in 2008 during the presidential primary to testify before a legislative committee in support of voting rights for D.C. residents.
At that time, the issue was favorably received by the committee, but it "came to the floor on a snowy day" and failed to get the two-thirds vote required by state law, according to reports.