Lamont Peterson vs. Amir Khan II - No Doubt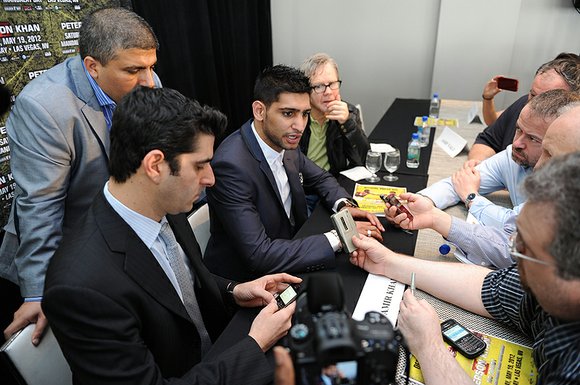 For 12 rounds in December 2011, Lamont "Havoc" Peterson and Amir "King" Khan fought one of the most compelling championship bouts of the year. At its conclusion a storm of controversy arose over the judges' final decision and the officiating, but in the end Peterson won a split decision capturing Khan's World Championship belts.
On Saturday, May 19, The Mandalay Bay Events Center in Las Vegas, Nevada, will host the greatly anticipated rematch for the Unified Super Lightweight World Title which boxing fans have clamored for as Lamont Peterson will defend his WBA World Super Lightweight Championship and IBF World Super Lightweight Championship against Amir Khan in a fight televised live on HBO World Championship Boxing. At the pre-fight press conference held on March 15 in Washington, D.C., Ken Hershman, President of HBO Sports said "We are elated to broadcast this fight to boxing fans around the world. Peterson vs. Khan II should leave no doubt as to who is the best super lightweight in the world."
Their first fight was a close battle waged in Peterson's hometown of Washington, D.C., that many boxing pundits considered a candidate for "Fight of the Year". It was an epic struggle of contrasting styles with Khan using his lightning quick speed and boxing ability while Peterson constantly banged and brawled. The deduction of two points from Khan by the referee for pushing proved to be the difference in the outcome, leading to questions about who actually won the fight. Following the bout, Khan filed multiple protests, much to the ire of Peterson who felt Khan's post-fight behavior tainted his victory and were an act of disrespect. On May 19, the fighters will settle the score n Las Vegas.
"I'm feeling great about my decision to fight Khan again," said Peterson (30-1-1, 15 KO's). "I reviewed every opponent that was on the table, and I feel that Khan was my best option. Not only do I want to fight Khan again, but it's the fight that the fans want to see."
I'm ecstatic that I'll finally get the chance to avenge the result of my last fight," said Khan (26-2, 18 KO's). "It's clear I wasn't happy with what went on in the first fight, but that takes nothing away from how Lamont fought. He showed a lot of heart that night, and now I have a chance to prove that I am the best in the division."
More information on Peterson vs. Khan II, including training camps, ticket prices, and any additional press conferences, will be announced soon.
Former Unified Super Lightweight World Champion Amir Khan (Center) speaks to members of the media at a press conference on March 15, 2012 in Washington, DC. Khan will face Unified Super Lightweigt Champion Lamont Peterson in a match to gain his title. The championship bout will held May 19 2012 at the Mandalay Bay Events Center in Las Vegas, Nevada and it will be televised live on HBO World Championship Boxing. /Delane Rouse - Hoganphotos/Golden Boy Promotions