Carolina Panthers 21, Washington Redskins 13.
11/7/2012, 7:54 p.m.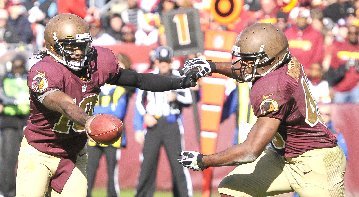 Washington's quarterback Robert Griffin III (10) hands off to Washington's running back Alfred Morris (46) in the second quarter. The team honor the former Redskins legends in attendance, as well as the team's 80th anniversary, by wearing their new 2012 "anniversary" NFL Nike Elite 51 football uniforms. The uniforms are a modern interpretation of those worn back in 1937 - a year signifying the team's move from Boston to Washington, D.C., as well as their first National Championship.The Panthers defeated the Redskins 21-13 at FedEx Field in Landover, Maryland on Sunday November 4./Photo by john E. De Freitas
Carolina Panthers CB Josh Norman (24) tries to block Redskins kicker Kai Forbath (2) who gave the Skins their first points in the first half of NFL action at FedEx Field in Landover, Maryland on Sunday, Nov. 4.
The Washington Redskins welcomed the "10 for 80" honorees, along with more than 150 other Redskins greats, for the team's annual homecoming game on Sunday, Nov. 4 against the Carolina Panthers. In this photo some of the Redskins alumni enjoy a photo moment. The homecoming celebrations featured an alumni parade with the Redskins Marching Band and Cheerleaders .Redskins homecoming weekend is the culmination of the team's year-long 80th anniversary campaign to celebrate the Redskins' rich history and talented alumni.