Jeter Defeats Lange
10/29/2012, 8:33 p.m.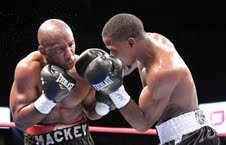 The Oct. 28 main event lived up to its billing as a Beltway brawl as Northern Virginia's Jimmy Lange and Baltimore's Tony Jeter went toe-to-toe.
Despite scoring a 1st Round KO and earning four points on deductions to Jeter for low blows and holding against the ropes, Lange was upset by the aggressive Jeter. Lange failed to box and stick to his jab, while Jeter executed his game plan by brawling by completing his first 10-round bout. Jeter improved to 15-3-1, 10 KO's, while Lange lost for the first time in eight bouts, dropping to 38-5-2, 25 KO's.
Zain Shah vs. Harry Joe Yorgey - 6 Rounds - Middleweight
The co-main event ended quickly when "Lightning" Harry Joe Yorgey defeated Zain "Tiger" Shaw by TKO at 2:41 in the first round. The formerly undefeated Shaw took on the toughest opponent of his career in Yorgey, who is a former world championship contender. This bout was rescheduled from the last Patriot Center card, last February, when Shah had had to pull out because of illness. Midway through the first round, Yorgey scored a knockdown, and Shah never fully recovered.
Undefeated Alexandria middleweight Brandon Quarles had his hands full with veteran John "No Mercy" Mackey. After being knocked down in the first round, Quarles came back to knock down Mackey at the very end of the sixth and final round, leading to a majority draw.
The Beltway battle between Washington, D.C., fighters Lawrence Jones and Ivan "King Shango" Ziglar ended as a no-contest when Jones suffered an accidental head butt at 1:49 in the second round.
Two undefeated super middleweights faced off in Immanuwel Aleem vs. Mark "The Honorable" Baltimore. Aleem, who along with his brother Moshea, comprise the "fighting Aleem," was a decorated amateur before turning pro three months ago. He fought a spirited Baltimore, and prevailed on all three judges' cards.
Super middleweights Jerry "The King's Son" Odom and Darryl Fields faced off in a battle of debut fighters. It didn't last long, as Odom won by TKO at 1:11 in the first round. It wasn't a surprise, however, as Odom had a stellar amateur career, capturing the 2012 National Golden Gloves Tournament of Champions.
In the first upset of the evening 1-8 David Warren Huffman of Milwaukee, WI, (now 2-8) scored a TKO victory over junior welterweight prospect Joseph "Raw Talent" Rector. Rector was a two-time regional Golden Gloves champion who won the Mayor's Cup Championship four times as an amateur.
In one of the most heralded deubuts of the evening, USA Boxing National Championship 2011 bronze medalist Antoine "Action" Dougles faced off against Valdez Eason. It didn't last long, as Dougles cornered Eason with a flurry of punches that drove him to the canvas, where the referee stopped the fight at 1:30 in the first round.
Two new D.C. cruiserweights faced off when Andrew Ward met Mario "Bazooka" Flores. Ward is a US Army Staff Sargent stationed in at Ft. Meade in Maryland, and Flores was a 2007 MD/DC/VA Golden Gloves Champion. Flores came on strong at the end of the fourth round, appearing to be on the verge of a knockout before the bell sounded, but it wasn't enough and the judges ruled the bout a majority draw.