Actors Host Interactive Youth Summit at DNC
9/4/2012, 6:03 p.m.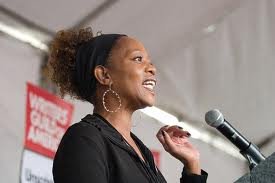 Students Posed Questions on Jobs, Economy, Student Loans and Preparing for Global Economy
Charlotte, N.C. - Students and educators from area colleges and universities participated Sept. 4 -- opening day of the Democratic National Convention -- in a live-streamed interactive forum with some of the nation's most influential political leaders.
The interactive youth summit called "UFuture - A Summit for Innovative Young Thinkers" brought together more than 300 youth from area colleges. The summit was live-streamed from the campus of Johnson C. Smith University (JCSU) in Charlotte, NC.
Actors Alfre Woodard ("Desperate Housewives"), Hill Harper ("CSI NY") and Nicole Ari Parker ("Boogie Nights"), engaged youth in a two-hour interactive discussion, which was presented by the Congressional Black Caucus Institute in conjunction with JCSU.
The summit created the opportunity for the participants to share their ideas about living and learning in a global community as they interacted with national elected officials, congressional members, White House officials, educators, entertainers and business leaders. Students who were not able to attend in person tweeted questions and interacted remotely via the Internet. The two-hour event was also broadcast live starting at 10 a.m. on the JCSU website.
Members of Congress, Rep. Bennie G. Thompson (MS), Rep. James E. Clyburn (SC), Rep. Melvin L. Watt (NC), Rep. Marcia Fudge (OH), Rep. Danny K. Davis (IL), Rep. G.K. Butterfield (NC) and Rep. Barbara Lee (CA) and Rep. Terri Sewell (AL) answered questions submitted by the youth. Nicole Ari Parker moved throughout the audience to gather the live questions presented by students.
"Now, more than ever, it is important that we engage our youth in creating the future they want to see. This election cycle is pivotal in terms of how our country will move forward," said CBC Institute Chair, Rep. Bennie Thompson. "Our youth are our future. Their input and questions can serve as guideposts for us to work together to solve the issues that impact them today and prepare us for the ones we may face in the future."
In addition to JCSU, other colleges and universities represented at the summit included Central Piedmont Community College, Johnson and Wales University, Gardner-Webb University, Livingstone College, Clemson University, Winthrop University, Wingate University, Davidson College, UNC Charlotte, South Carolina State University, Bennett College, Spellman College and Benedict College.
"The summit speaks to the desires of today's young voters to engage in politics and seek answers to relevant issues that affect their future," said JCSU President Ron Carter. "It falls directly in line with the Congressional Black Caucus Institute's mission to educate today's voters and train tomorrow's political leaders."
Over the past 12 years, the Congressional Black Caucus Institute has hosted many voter education events, including town hall meetings during the Democratic and Republican national conventions and three nationally televised presidential primary debates.
Panelists and speakers stressed the importance of voting and encouraging others to get registered to vote. Rep. Emanuel Cleaver, Chair of the Congressional Black Caucus, received a standing ovation when he spoke about how young black men and women can change America. "You can change America. You are America," said Rep. Cleaver.
Melody Barnes, the first White House Director of Domestic Policy in the Obama Administration, stressed the importance of students going abroad to study. Barnes encouraged students to study abroad and gain language skills to become better global citizens and global leaders.