'The Mountaintop': Arena Stage Presents an Alternate View of Martin Luther King Jr.
Eve M. Ferguson | 4/10/2013, 9 p.m.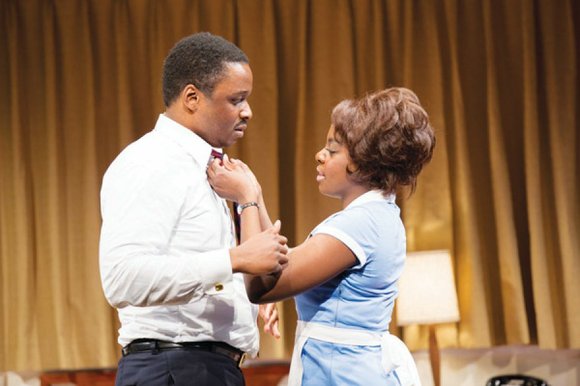 "Dr. Martin Luther King Jr., has been my greatest role," Wright, an experienced actor, said. "Before my involvement in this play, my knowledge of Dr. Martin Luther King Jr., was what I learned back in elementary school. I looked at him as a saint, a man who has never done any wrong. He was untouchable."
In his second reprisal of the role, and in his Arena Stage debut, Wright concluded, "Now, I look at him as someone I can relate to. He is a greater hero to me now because he made me see the greater purpose within myself. He has inspired me to do great things in spite of my imperfections. This has truly been a blessing for me."
"The Mountaintop," which had its official opening night on the 45th anniversary of Dr. Martin Luther King Jr.'s assassination, continues at the Arena Stage's Kreeger Theater through May 12th. On May 4th following the 2 p.m. matinee, a special panel discussion on the evolution of the civil rights movement, from the 1960s to today, and the theater's role in creating change has been scheduled.
Tickets for "The Mountaintop" are $40-$85. Tickets can be purchased at arenastage.org, or by phone at (202) 488-3300 or from the Box Office at 1101 Sixth Street in Southwest.