Toyota Unveils the 2013 Avalon
'Great Cars Don't Happen without Great People'
Yvonne Coleman Bach, Special to The Informer from Louisville Defender | 4/15/2013, 9 p.m.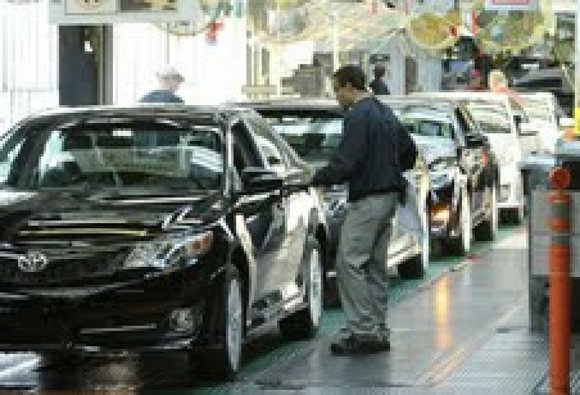 Toyota recently unveiled their 2013 Avalon at a press junket in Cincinnati. The event not only provided the media in attendance with a look at the newly designed vehicle, but also an inside look at the company that makes it and their strong commitment to diversity.
Billed a luxury car without the luxury price tag, the Avalon is sure to be a favorite among the African-American consumer market. Members of the press recently got the chance to drive the impressive vehicle and see it being made at the Toyota Motor Manufacturing, Kentucky (TMMK) Plant.
The plant sits on 1,300 acres and employs about 6,600 people with a payroll of about $492 million. In addition to the Avalon, the plant produces the Camry, Camry Hybrid, Avalon Hybrid and
"Great cars do not happen without great people," said James S. Colon, vice president of Toyota Product Communications. He added that Toyota has a diversity strategy that works and that 30 percent of the workforce consists of people of color.
Colon is responsible for gathering and managing information and promotion initiatives for Toyota brand vehicles in addition to product and sales training. He began his career in 1980 and he has held various roles at Toyota regional offices and at TMS headquarters in Torrance, California, that include general manager for the Portland Region and the Chicago Region. He was also vice president of sales and dealer development for the Lexus Division. Most recently, he served as vice president for sales for the Toyota Division where he was responsible for sales support for Toyota's regional offices, public companies and private distributors.
Another great person of Toyota is Wilbert W. (Wil) James Jr., president of Toyota Motor Manufacturing. When he gave an overview of the facility, he talked with great pride. "We are proud of the way we do business, " James said.
When asked aboyut how diversity ha worked at his facility, James said he believes that everyone is an integral part of the team and makes that known to everyone. "That is the Toyota Way," he said, adding that Toyota has been avid in establishing programs where employees can help people in the community.
The company has received numerous awards in the area of diversity that include:
• "Top 50 Company for Diversity" by DiversityInc for six years. In 2012, in addition to the being included in the list of Top 50 Companies for Diversity overall, Toyota also ranked seventh in DiversityInc's Top 10 Companies for LGBT Employees.
• "40 Best Companies for Diversity" by Black Enterprise Magazine for the past seven years.
• Hispanic Business Magazine's "Top 60 Company for Diversity" for the past three years.
• 2011 "Corporation of the Year" by the National Minority Supplier Development Council (NMSDC).
• Proud member of the "Billion Dollar Roundtable," recognizing more than $1 billion in annual spending with certified ethnic and women-owned suppliers.