Nationals Get Swept at Home by Braves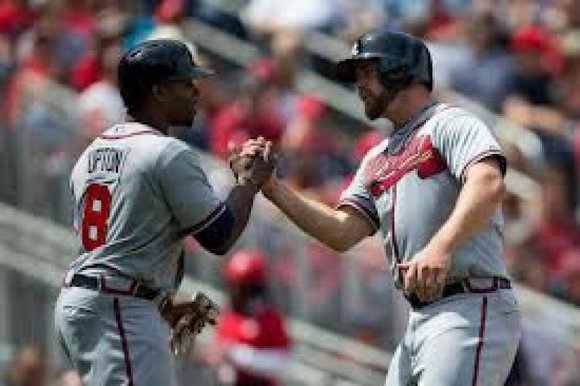 It's just the beginning of a long baseball season.
Perhaps several months from now, the Nationals will look upon this weekend's series sweep at the hands of the Atlanta Braves as nothing but a hiccup.
Teams win their respective divisions by battling through a long schedule against the entire league. In fact, there are still 16 games remaining against Atlanta alone. But right now, dropping three consecutive games before large crowds at home to their division rival still hurts. The most recent was a 9-0 rout at Nationals Park on Sunday (April 14) afternoon.
The Braves beat up Nationals' starter Gio Gonzalez for seven runs through the first three innings. Home runs by Andrelton Simmons and Justin Upton, a double by Evan Gattis and a two-run single by Chris Johnson left Gonzalez bewildered.
Meanwhile, Braves' southpaw Paul Maholm continued his strong beginning to the 2013 season with seven and two thirds shutout innings. The Nationals posted a mere four hits against him with a walk and seven strikeouts.
"The Braves right now are running hot. They're red hot right now, and you've got to give them credit," said Gonzalez, who went five innings. "They're a tough hitting lineup and good rotation. As a pitcher you have to go out there and try to limit them, give these guys a chance to actually swing the bat. And I didn't do that today, so I take the blame on this one 100 percent."
It was a frustrating weekend for Washington, who gave up a 4-0 lead and lost in extra innings Friday and fell 3-1 on Saturday. In the three games combined, they managed only five runs against Atlanta pitching and committed four errors, including one in each game by third baseman Ryan Zimmerman.
The Braves now have the best record in baseball at 11-1, and just 12 games into the season, they have a four game lead over the Nationals (7-5). Every major league team had at least three losses coming into Sunday's games.
"This division got tougher," Nationals shortstop Ian Desmond said. "I don't think there's going to be a 100-game winner in this division. I really don't. It's going to be a battle all year long. They played great. If we play a little better we probably put ourselves in a better position. But we got a good taste of what they're bringing to the table this year."