Buy Suitland Program Helps Sixth Homeowner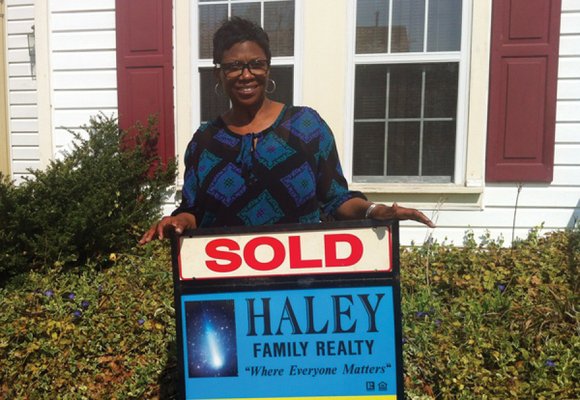 It was an exciting day for Selivia Diggs on April 11 when she was given the keys to her new home with a mortgage less than apartment rent. Tears flowed and Diggs called it a blessing.
Looking on, Prince George's County housing officials hope that the publicity surrounding Diggs sizeable $35,000 assistance from the county's Buy Suitland homeownership program will attract a flurry of first-time potential homeowners to apply for the program.
"We want to congratulate you," said Precious J. Gardner, Neighborhood Stabilization Program (NSP) settlement coordinator for the Buy Suitland program. "This is a win/win today for all of us."
Diggs is purchasing a $95,000 two-bedroom, 1 ½ bath townhouse in District Heights that has already been appraised for $97,000. With the $35,000 in down payment assistance and closing costs provided through Buy Suitland, Diggs monthly mortgage payments will be $683.
Diggs, a hair stylist in Springfield, Va., stood before the white townhouse with the burgundy shutters wiping tears from both eyes after county officials made speeches and handed over the keys and green and white parking decals.
"It's been a long time coming," said Diggs.
She said she has been trying to purchase a home for two years, facing many challenges. However, once her real estate agent told her about the Buy Suitland program, "Everything was really easy. It fell into place," she said.
Diggs previously had been living in Upper Marlboro taking care of her sister but she longed for property of her own.
Asked what she was going to do first when she got into her place, Diggs responded, "Clean, pull up the carpet and make it my own."
Diggs is the sixth person to receive financial assistance from the Prince George's Redevelopment Authority's "Buy Suitland" program. The program offers first-time homebuyers the opportunity to purchase a home in Suitland, parts of District Heights and Morningside. Income eligible, credit-worthy homebuyers can receive up to $40,000 in down payment and closing costs assistance to purchase a home that's been foreclosed or is available through a short sale.
The program has increased opportunities for potential homeowners who are first responders, teachers and nurses.
Eric C. Brown, director of the Prince George's County Department of Housing and Community Development (HCD), said that in addition to providing county residents a gateway to homeownership, the program also helps prevent blight.
"I think if this (house) were not sold it could still be sitting here, being a blight on the community," said Brown, who noted that three attempts to sell the property fell through.
Alexis Revis Yeoman, public information officer for HCD, said some people are skeptical of buying in the Suitland area, but she tells them there are plenty of good properties and neighborhoods and that people can also look in District Heights and Morningside.
Yeoman said her agency has been surprised more people haven't applied for assistance through the program, which has $850,000 to grant to those eligible. The last thing officials want to do is return funds to the federal government at the end of the year because enough people haven't applied for the program, she said.
For more information on the Buy Suitland program, call Roz Clemens, NSP manager, at 301-883-7323 or visit www.princegeorgescountymd.gov/RDA.