Forum Reveals 'Scary Data,' Fear of Math, Science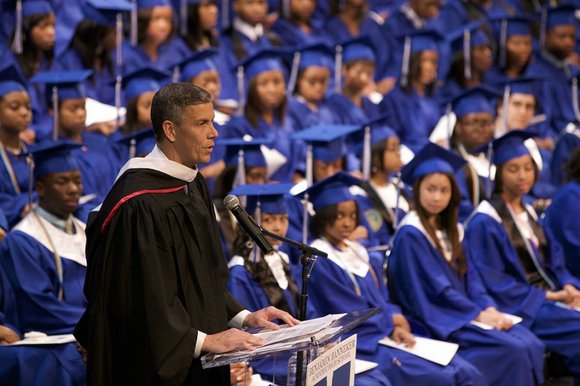 An annual policy and research forum that's presented each year in the District of Columbia to focus on attracting, supporting and retaining minorities in Science, Technology, Engineering and Math (STEM) curriculums, highlighted some glaring challenges the nation faces getting their numbers up – particularly at historically black colleges and universities (HBCUs).
The three-hour forum, which took place April 11 at the Rayburn House Office Building in Southwest, attracted about 40 corporate leaders, political standouts and college and university department heads from across the country. During the discussions, they drove home the point that black students have traditionally feared math and science because their teachers didn't know how to present the subject matter.
"Things like math and science are really easy and fun, but kids are afraid of those courses because teachers don't come equipped enough to do their jobs," said Ohio Congresswoman Marcia Fudge, chair of the Congressional Black Caucus (CBC).
Fudge said however, that the CBC and National Urban League are working on the "Project Ready STEM Act of 2012" to provide students the opportunity to explore STEM involvement at earlier stages in their lives, like the third grade. "If kids realize early on that they can have fun learning math and science, everyone's life can be better," she said.
The gathering, which was sponsored by the New York-based National Action Council for Minorities in Engineering, was moderated by its president and CEO, Irving McPhail Ph.D., and included a panel discussion and Q&A session. While many of those in attendance voiced concern about access and sustainability of STEM programs, others noted that disproportionate numbers of blacks poised for those studies tend to quit college during their first year due to a lack of money.
For instance, Michael Smith of the National GEM Consortium in Alexandria, Va., talked about what he described as "scary data," in his reference to "families with only a $20,000 income, but who've had students to leave school prior to graduation with student loan debts of $30,000 or more."
To that end, Smith questioned how organizations such as his might better collaborate and mobilize efforts "to create a movement" to help minority students to complete their undergraduate studies in STEM disciplines and earn advanced degrees.
One point in particular that resonated among guests – which also included Maryland Congresswoman Donna Edwards – was that President Barack Obama did not provide adequate funding for minority education in his new budget.
"The president issued his 2014 budget but didn't mention minority STEM programs, so pressure needs to be put on the White House," said Johnny Taylor, CEO of the District-based Thurgood Marshall College Fund. "Otherwise, we're ignoring the issue."
Taylor added that his organization, which is "passionate about STEM issues," advocates on behalf of the country's 119 HBCUs which represent just three percent of the nation's higher education institutions.
"And, with more than half of our black teachers graduating from HBCUs, our goal is to increase STEM programs on those campuses," Taylor said, adding that according to a STEM migration study, six percent of black STEM majors drop out of college during their first year. In noting that the average HBCU tuition is $6,200, Taylor said that by the time room and board are added, the annual cost can total $13,000 or more. When students can't pay, they leave school, he said.