Leaders Spar, Agree on Regional Cooperation
4/17/2013, 9 p.m.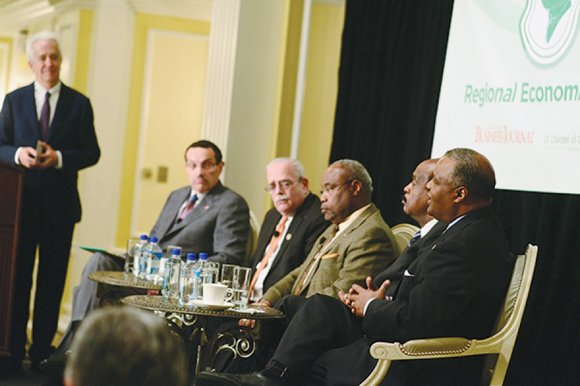 At an early morning breakfast gathering in downtown Washington last week, officials from around the Washington metropolitan area treated more than 200 business leaders to a cordial but sometimes chippy discussion about regional cooperation.
While the politicians didn't solve all the thorny issues during the 2013 Regional Economic Forum at the Willard Intercontinental Hotel in Northwest, they agreed that it's in all their best interests to find ways to work together.
"Intellectually, everyone would agree with the question [about the importance of regional cooperation]. How do we achieve it becomes more difficult," said Montgomery County Executive Isiah "Ike" Leggett during the April 11 event hosted by the D.C. Chamber of Commerce and the Washington Business Journal. "We have to find what that means."
Leggett, 68, was joined in the spirited discussion by D.C. Mayor Vincent C. Gray, Virginia Congressman Gerald Connolly, Alexandria Mayor William Euille and Prince George's County Executive Rushern Baker III. The audience enjoyed the quips, wry comments and gentle jibes lobbed by the panelists and the questions offered with some interesting twists by Washington Business Journal Publisher Alex Orfinger.
Panelists acknowledged the intrinsic and unavoidable competition among distinct and sometimes very different jurisdictions when it comes to attracting and retaining businesses. But they said there's plenty of room for cooperation and agreement on a diverse range of issues that affect the entire region.
"[Regional cooperation] is important because our interests converge so much, [but] not always in concert with each other," said Gray, 70. "With regards to the economy, there is inherent competition and areas where we compete. We have to find ways to come together for opportunities that might not be apparent."
Several on the panel noted that even as they compete against each other, the real competition comes from cities elsewhere such as Los Angeles, Atlanta and Chicago.
Connolly questioned Orfinger's use of the word "poaching" to describe jurisdictions which snatch businesses from one city or region to the other.
"Poaching is a very simplistic term. It doesn't describe a complex process," he said.
Euille, 62, said those in charge should set the tone.
"It's all about leadership and that starts with people at the top. This has to be a collaborative partnership," said Euille, who has served as mayor since 2003. "Poaching is probably something you don't want to be doing. When businesses are contemplating moving, you'd want to know. It shouldn't matter because if we're working together, we'll all benefit and gain."
Gray said disparaging his neighbors gains him nothing.
"There has to be a prevailing principle not to do this," he said.
Connolly, 63, agreed.
"Economic competition is robust, it's real," he said. "It's foolish to believe that we don't look at other people's assets and say we'd like to get a piece or all of it. You have to play to your comparative advantages," Connolly said. "But you have to do it in a way that doesn't disparage anyone. It's time for us to cooperate and seize opportunities."
Connolly, who has represented Virginia's 11th District since 2009, explained the difficulties area officials face with three distinct jurisdictions, different funding and tax formulas and varying governing models.