Leaders Spar, Agree on Regional Cooperation
4/17/2013, 9 p.m.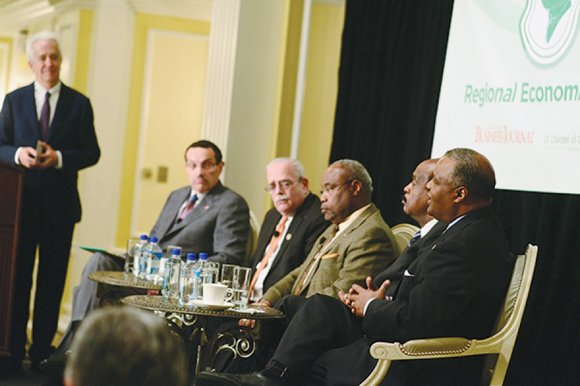 Baker, Prince George's County's seventh chief executive, concurred that regional leaders have to work to ensure that all boats rise so that everyone benefits.
"My good friend [former Prince George's County Executive] Wayne Curry calls D.C. Rome," said Baker, 54. "We all surround the nation's capital. We all feed off that. We want D.C. to do well ... D.C., Fairfax, Alexandria: When they grow, we all benefit ... But in order for us to compete with the rest of the United States, the rest of us have to do well."
Orfinger's question about the prospective move by the Federal Bureau of Investigation (FBI) from its current location on Pennsylvania Avenue in Northwest, led to barely concealed friction among the panelists. Each person seated on the stage views the FBI as a prized plum they'd love to grab for their own. Orfinger's query revealed the divisiveness of the issue and the politicians' competitiveness when he asked each which jurisdiction they would select, other than their own, as the site of the FBI's new offices.
" ... Let me rephrase that ... when the FBI moves to Maryland ..." Leggett began.
"When hell freezes over ..." Connelly interjected without missing a beat.
Leggett and Baker have identified a site in Greenbelt, Fairfax County officials have offered a spot in Springfield and Gray is lobbying that the FBI stays in the District at Poplar Point on the Anacostia River.
Leggett admitted that city officials are often used as pawns by businesses which use that leverage as a way to sweeten their deals.
Connolly, a former chairman of the Fairfax County Board of Supervisors, chimed in.
"Marriott said that they might move to Fairfax. They succeeded in extorting $35 million from Montgomery County to stay," he said with ill-disguised disgust. "I don't know what other word to put to it. They were telling me moving trucks were outside."
While it may seem otherwise, there are numerous examples of successful collaboration, Connolly argued.
He and his colleagues spoke of the Metro system, emergency preparedness planning, ozone days and the development of air quality guidelines, and coming up with a definition of what constitutes a drought.
"There are unspoken successes which are generally unsung and unsexy," said Connolly. "Metro is an astounding success of regionalism. The extra feat is that we did it in 30 years and established the second-highest ridership. That's not trivial."
But there are a host of seemingly intractable problems that officials are grappling with. This includes affordable housing, transportation, workforce development and developing and sustaining quality education.
"Regional cooperation is a fundamental step for innovation and economic growth," said Verizon's Tony Lewis, who opened the discussion. "It affects everyone in the region despite jurisdictions or the business you're in."
"But cooperation can be staggeringly difficult with differing needs, local regulations and strong personalities – that can be daunting. To compete and grow, we need innovation, improved services and rigorous attention to shareholders ... the business community thrives when regional cooperation is a must."