Low Graduation Rates Plague DCPS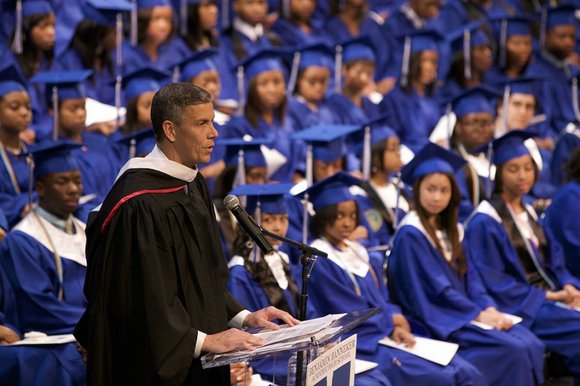 Parents and education and community advocates bemoan the low graduation rates in D.C., saying that like the city's burgeoning truancy issue, the situation will only get worse until the necessary steps are taken to rein in the problem and preserve the value of public education.
"Trust me, D.C. schools are a mess and it seems like nobody cares enough to say when enough is enough," said Jocelyn Johnson, 37, a former District resident who pulled her two children out of the District of Columbia Public Schools (DCPS) system two years ago and moved to Seat Pleasant, Md., in Prince George's County.
"My children have adjusted very well to their new system," Johnson said. "My son was in the eighth grade when we moved and had started skipping school. My daughter was turning 16 and on the verge of not graduating on time," she said. "I had talked to everybody that I thought could help – teachers, preachers, principals – but then I realized that I had to take control ... I'm not blaming D.C. for my children's troubles, but it was like [the officials] in charge weren't that concerned that I was concerned."
A report released late last year by the U.S. Department of Education stated that at the end of academic year 2010-11, only 59 percent of students in the DCPS system had graduated on time. However, the Office of the State Superintendent for Education (OSSE) reported a 2 percent increase last year in DCPS graduation rates.
But that hardly elevated the District to any significant standing, as its graduation rates still remain among the lowest in the country.
"A 2 percent increase might be a big deal for OSSE, but it's still a very low number to be [boasting] about, and we as parents, school officials and community leaders need to show our discontent with this," said Dorothy Douglas, a former Ward 7 school board representative. "A lot of situations like truancy and the [mandated] school closings are what's contributing to low graduation rates, and nobody's really looking at that."
According to a 2012 statistical chart provided by OSSE, Cardozo Senior High School in Northwest had a 40 percent graduation rate and Anacostia Senior High School in Southeast had a rate of 42 percent, while Benjamin Banneker Academic High School in Northwest reported a 100 percent rate. Ballou Senior High in Southeast had a 48 percent rate, and Dunbar and Coolidge high schools in Northwest, each had 60 percent rates.
Nevertheless, Hosanna Mahaley Jones, D.C. state superintendent, insisted in a statement that last year's graduation results were proof of school officials' efforts to reach the District's students regardless of income or disability. Her sentiments are shared by DCPS Chancellor Kaya Henderson who said that for years, the rates have not reflected the system's successes or challenges with high school students.
"However, with the new calculations, we have a clearer understanding of the work we still need to do, and the public has a more reliable way to hold us accountable," said Henderson, 43.