State of Black America: Much Work Ahead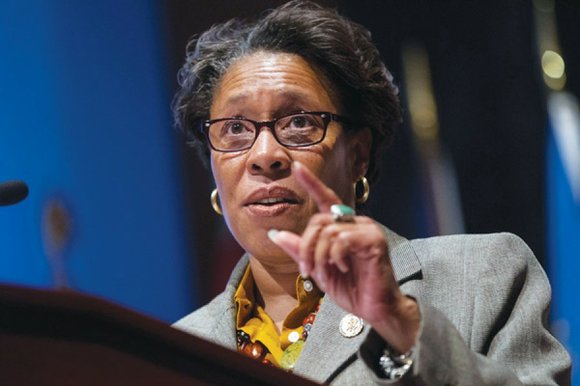 While commemorating the 50th anniversary of the Great March for Jobs and Freedom, a watershed moment in black history, some of the African-American community's most prominent and influential leaders said there is still much work to be done.
"There has been important progress in the last 50 years, including a decrease in poverty, increases in high school graduation rates and enrollment rates," said Marc Morial, president of the National Urban League, headquartered in New York.
"But, the disparity between black Americans and white Americans when it comes to jobs, income, health care and wealth remains too large," said Morial, 55.
Several organizations, including representatives from the Congressional Black Caucus (CBC), gathered on Capitol Hill on April 11, along with members of the Urban League for the release of the annual "State of Black America" report, which highlighted the economic forecast for African Americans.
Although the report is presented annually, this year, the Urban League commissioned a half-century study to commemorate the 1963 March on Washington.
"The unemployment rate is double for blacks than for whites, we've lost more homes to foreclosure than whites and we've lost more wealth than whites," said CBC Chair Marcia Fudge. "That is the state of Black America," said Fudge, 60.
The report credits civil rights measures enacted to open the doors of opportunity for blacks in education and standards of living. It noted that the high school completion gap has closed 57 percentage points and that there are more than triple the number of blacks enrolled in college than there were in 1963.
Further, the percentage of blacks living in poverty has declined 23 points and the percentage of black children living in poverty is down by 22 points since 1963.
However, over the past 50 years, the black-white income gap has only closed by 7 points and unemployment has narrowed by just 6 points.
"It is without contradiction that African Americans have made extraordinary progress in the report," said Rep. Chaka Fattah, D-Pa. "But, compared to the majority, we still have some room to grow," said Fattah, 56, who has sponsored an Urban Jobs bill in the House which he hopes will lead to better employment opportunities for blacks.
As the budget debate continues in Washington on whether to cut critical program funding, the "State of Black America 2013" highlights a harsh reality, Morial said.
"Budget cutting fever will cause economic pneumonia. If we are to move toward a lasting economic recovery and full equality and empowerment, we must apply sustainable solutions keenly focusing on jobs for all Americans and closing the gaps that result in a tale of two Americas," he said.
Fudge, (D-Ohio), said it also important to concentrate on a global marketplace, specifically that which is linked to Science, Technology, Engineering and Math (STEM) fields.
"Workers in STEM earn on average 26 percent more than their non-STEM counterparts. Moreover, job openings in STEM occupations outnumber unemployed workers by nearly 2 to 1," Fudge said.
However, the congresswoman noted that the nation is put at a disadvantage by failing to provide a strong STEM education for as many students as possible. Fudge has introduced legislation she said will help ensure access to STEM for urban minority youth.
"This measure expands community based programs that increase exposure to hands-on science activities. Numerous evaluations found that quality STEM after-school programs such as those conducted by the Urban League, increase the likelihood of graduation and pursuit of a STEM career," she said.