Symposium Seeks to Increase Minorities in Health Professions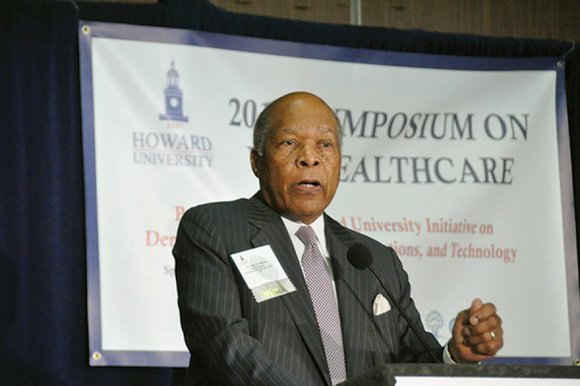 With the higher numbers of adult deaths, infant mortality rates and other health-related issues plaguing minorities, it becomes even more vital to increase the participation of health care professionals with diverse backgrounds in the industry, which will greatly improve the health outcomes in these communities.
These were the conclusions by several speakers at an all-day health care symposium hosted by Howard University in Northwest on April 10.
In the early 1990s, millions of dollars were used to address HIV/AIDS, making it less threatening today, said Dr. Louis Sullivan, former U.S. Secretary of Health and Human Services, who delivered a keynote address on preparing minorities for subjects in Science, Technology, Engineering and Mathematics (STEM).
"We need to address health disparities with the same vigor and resources as they were for AIDS," said Sullivan, chief executive of Alexandria, Va.-based Sullivan Alliance to Transform the Health Professions, which works toward diversifying the health workforce. The Sullivan Alliance was created to act on recommendations included in the 2004 Sullivan Commission (Missing Persons: Minorities in the Health Professions).
One in three Americans belongs to a racial or ethnic minority group, with African Americans, Hispanic Americans, and American Indians making up more than 30 percent of the population, according to studies cited by the alliance. For those under age 20, the percentage is 43 percent. The U.S. Census Bureau predicts that by 2042, there will be no majority population in the United States. Yet, today only 12.3 percent of physicians, 7 percent of dentists, 10 percent of pharmacists, and 11 percent of registered nurses belong to a racial or ethnic minority group.
These numbers compel advocates like Sullivan to work to close the health disparities gap.
He cited instances of unconscious bias in treatment. In the 2011 book, "Seeing Patients: Unconscious Bias in Health Care," by Augustus White and David Chanoff, ethnic minorities are undertreated for acute cardiac symptoms as they receive less bypass surgery and are less likely to receive pain medications in emergency rooms.
"Urgent attention is needed for disparities in preventive services and access to care," Sullivan said, adding that attention was needed for residents in inner cities and rural areas; more attention to diabetes management and cancer screening. Data has shown that health disparities can be eliminated with more minorities in the workforce as patients feel more comfortable visiting providers who look like them.
"African Americans play a significant role in dental care for blacks," said Dr. Jeanne Sinkford, associate executive director at the American Dental Education Association (ADEA), who cited ADEA findings that 61.8 percent of African Americans visit black dentists as opposed to 27 percent who visit white dentists.
However, the American Association of Medical Colleges stated that in 2008, there were almost 30,000 African-American physicians or 6.3 percent in comparison to more than 350,000 white physicians or 75 percent; and more than 60,000 Asian-American physicians or 12.8 percent. Black physicians are still underrepresented because the African-American population is 12.6 percent, as of the 2010 U.S. Census.
Opening up health care professions to more minorities begins with children in the kindergarten to 12th grades looking at STEM as viable career options, said Dr. Leo Rouse, dean at Howard's School of Dentistry who joined Sullivan on a panel before an audience of more than 100 people at the Blackburn Center. Kurt Schmoke, vice president and general counsel at Howard, also joined in the discussion which was moderated by WUSA TV9 anchor JC Hayward. The panelists focused on preparing minorities for STEM subjects, which eventually lead to careers in medicine and health care.