Symposium Seeks to Increase Minorities in Health Professions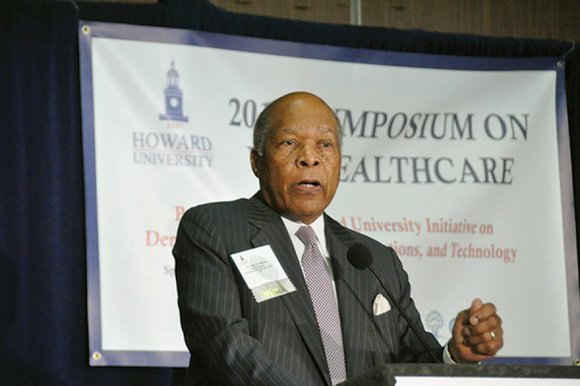 STEM degrees include mathematics; natural sciences; engineering and engineering technologies; health professions and related clinical sciences; and computer and information sciences.
"The STEM pipeline is about leadership, understanding the significance of diversity and industry and developing a cohort of men and women," said Rouse. "But we always question who's in the pipeline. How can we get our community engaged in STEM and where are the African-American men?"
Dr. Antoine Garibaldi, a Howard alumnus and president of the University of Detroit Mercy, sought to address black males in the health care pipeline.
"The trend is clear. African-American students are scoring below the basics," said Garibaldi, quoting numbers from the National Assessment of Educational Progress, the largest national sample and continuous subject-area assessment of American students in grades 4, 8 and 12. African Americans scored the lowest among all racial and ethnic groups on the standardized ACT in 2009, 2010 and 2011, and average SAT scores for the same time were more than 200 points below the national average.
Alexis Webber, a pre-med student at Howard's College of Nursing and Allied Health Sciences, appeared overwhelmed.
"I thought it was eye-opening," said Webber, 22, a St. Louis, Mo., native. "For me, as a student I had no idea so many teachers who weren't pushing black students who want to go to college were African American themselves." She referenced a study by Garibaldi on New Orleans Public Schools in the late 1980s. Not much has changed since then.
For solutions, speakers suggested more mentoring as a tool to increase participation in the health care pipeline; the possibility of scholarships with service requirements for loan repayment; and an increase in online resources across health professions, among other strategies.
"By providing more Americans with access to quality care, (the health reform law) was a major step toward equalizing health care across communities," said Jannette L. Dates, dean emerita of Howard's School of Communications and chair of the symposium planning committee. "Key to our mission of eliminating health disparities is increasing the number of minority health professionals who understand the communities' needs."