Diversity Lacking in Inner-City Schools
CBCF Forum Focuses on the Need for More Black Male Instructors
WI Web Staff | 4/24/2013, 9 p.m.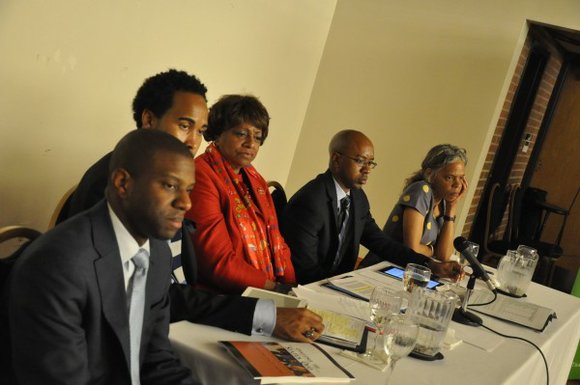 Sixty years after the Supreme Court's decision in Brown vs. Board of Education – the unprecedented civil rights case that dramatically impacted the quality and character of the nation's educational system – black students attending public schools in large urban cities lack diversity when it comes to their teachers.
The panel of education experts who participated in a recent three-hour town hall meeting at Howard University (HU) in Northwest, also noted that inner-city classrooms remain largely segregated, students are being taught by white instructors who have little knowledge of how to reach out to their young charges – and more importantly, due to a shortage of black male teachers as role models, black boys are at risk for dropping out of school.
"We need to know how to make teaching more appealing in order to attract more African-American males," said Amy Wilkins, one of the five panelists who weighed in during the April 18 Diversifying the Nation's Teacher Workforce forum. "And, white students need to see more African-American male teachers as active players in the education system," she said.
Wilkins aligned her comments with myths that black males aren't interested in going into the profession and that black male teachers are becoming extinct. According to a statement issued by the Congressional Black Caucus Foundation (CBCF) which co-sponsored the event along with the American Federation of Teachers at HU's Blackburn Center, from among a workforce of six million teachers in this country, there is just one black male teacher for every 534 students.
In addition to Wilkins, a senior civil rights fellow for The College Board, a non-profit organization, headquartered in New York that administers the country's standardized tests, other panelists included Ivy Toldson, senior research analyst for the CBCF, David Johns, executive director, White House Initiative on Educational Excellence for African-Americans; Marietta English, American Federation of Teachers (AFT) vice president; and Chance Lewis, executive director, University of North Carolina at Charlotte Urban Education Collaborative.
Lewis, the author of a book on black male teachers, titled "Black Male Teachers: Diversifying the United States' Teacher Workforce" has endeavored to dispel myths surrounding their presence in the education arena.
He agreed with Wilkins that the shortage of black male teachers is mainly because high schools aren't graduating enough black males who will go on to enroll in college and earn teaching degrees.
"Black men are not avoiding the profession because of lack of interest or finances," said Lewis. "If you look at the number with a bachelor's degree, their No. 1 profession is teaching." Next to that, black males are employed in school systems as administrators and counselors, he said.
Wilkins also condemned the waste of students' classroom time doing too much of "cutting out posters" as opposed to engaging in rigorous studies like reading and math.
"That's how we end up with a bunch of remediation in college," said Wilkins, who added that "there's a lot of cleaning up to be done" by all teachers regarding the manner in which they relate to students.