Hyattsville, Md., School Choir Headed to South Africa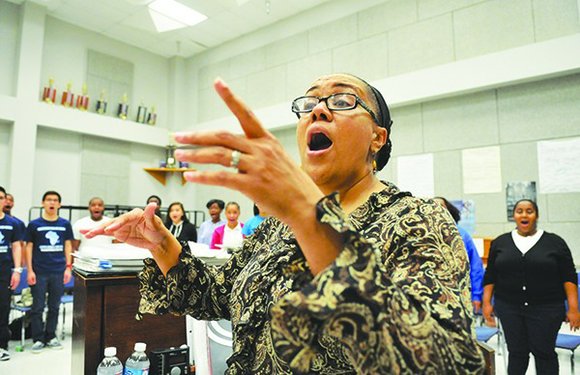 The summer of 2013 is likely to be one that many students at Northwestern High School will long remember.
If all goes as planned, about 50 teens and seven chaperones will spend part of their summer having a musical and cultural experience in a land far away.
The teens are members of the Northwestern High School Choir in Hyattsville that will be traveling to Johannesburg, South Africa, for the Ihlombe Choral Festival in July. They are scheduled to perform in five concerts in Johannesburg, Soweto, Capetown and Pretoria.
"It's just so very important for the kids," said Leona Lowery, the choir's artistic director, adding that the trip will give the teens a unique global education.
The invitation-only festival showcases choral groups from around the world. According to the festival's website, confirmed participants for the 2013 festival include a high school group from Trinidad and Tobago, the Toronto Children's Chorus from Canada and Women of Note, an Australian group. Lowery said Northwestern is the only American school participating.
The choir will be singing classical, African-American spirituals and some African songs. In addition to rehearsing and singing while in South Africa, the teens will also tour the various cities, participate in welcome and cultural events and learn new music.
Although the choir was selected for the festival two years ago, it wasn't until just a few weeks ago that they were confident that they had raised enough money to go. Each singer was asked to raise $1,200 of the $3,500 individual cost and the choir collectively also embarked on a number of fundraising endeavors such as bake sales. Recent publicity resulted in an outpouring of donations and while choir officials don't have an exact total of how much has been raised, they say they know they are close to having enough for the trip, which will cost more than $175,000.
Lowery said despite the outpouring of support, it's important for the young people to pitch in and help with the fundraising.
"I don't want anyone to go for free," she said. "It means less to you when you don't help raise the funds. Everybody paying something is really, really important."
Orela Anani, 16, a junior at Northwestern and a member of the choir, has raised more than $300 through selling fruit and concert tickets as well as making appeals to family, friends and church members through letters and email.
"I've been surprised by the rapid response and I was grateful," said Orela, who lives in Hyattsville.
Asked what she's looking forward to most about the trip, she replied, "I hope to see life through different eyes, experience a new culture, and experience something that's not my everyday norm."
Hyattsville resident Aneirra Coates,16, expressed excitement about the trip, which will be her first out of the country and her first time on a plane.
"I think it's amazing," said Aneirra. "I'm so thankful for the opportunity."
Aneirra said she's raised about $800 by selling candy at school and raking leaves.
Initially she didn't think she would be able to participate because her mother was nervous about the trip and told her no. But in November her mother – encouraged by family and friends – had a change of heart. Her mother's attendance at one of the school concerts where she saw her daughter interacting with choir members from South Africa also made a strong impression, Aneirra said.
The choir still has a number of performances and fundraising events coming up such as the spring concert on May 2 at the school and a parent-sponsored bus trip to King of Prussia Mall in Pennsylvania on June 15.
During a rehearsal just hours before a concert at the school on April 11, Lowery repeatedly played one section of a song on a piano in the choir room while demanding that the students get it right. At one point, she asked the students to tell her the meaning of the lyrics of one of the songs.
Amber Waller, a member of the Prince George's County Public Schools board, said she was excited for the students.
"It's going to be a life-changing cultural, social and educational opportunity to travel to another country," said Waller. "I think it's wonderful."