In its Fourth Decade, HIV Still Affects the Young
4/24/2013, 9 p.m.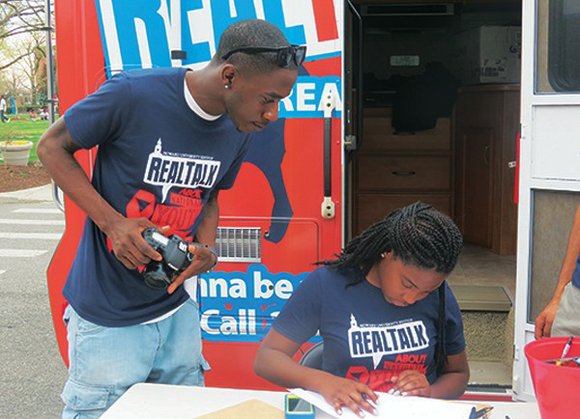 Mary Bowman is a 24-year-old fast food employee who lives in Suitland, Md. For the last three years, she has been expressing herself, and revealing snippets of her life through poetry. She recently recited a poem in which she describes her mother as a dandelion in the midst of roses.
"Ignorant of her purpose she uprooted her soul and unknowingly left herself for dead to dandelions," said Bowman at an HIV/AIDS event at Howard University on April 11, the day after the first National Youth HIV and AIDS Awareness Day. "All the while dying on the inside, AIDS didn't kill my mother. It put her at rest," Bowman told the crowd.
Her mother died when she was three.
"It's definitely a part of my life, it's as second nature as having an arm," said Bowman about being born HIV positive. She didn't know she had the disease until she was in the fourth grade and she shared her status with her entire class. To tell her story and to help others tell theirs, Bowman created a nonprofit organization called Purpose Over Entertainment or P.O.E.T., which helps to inform others how she and those like her live with the disease.
Bowman joins 76,400 young people nationwide who are living with HIV, according to Advocates for Youth, a Washington, D.C.-based nonprofit that aims to help and inform young people about their sexual health. The organization used April 10, 2013, as the first Youth AIDS Day, in the hope of bringing attention and awareness to the importance of getting tested, and to also bring attention to the fact that one in four new HIV infections in the United States is among youth between the ages of 13 and 24. There are 1,000 new HIV cases diagnosed among young people each month.
Discovered in the 1980s, Human Immunodeficiency Virus or HIV is the virus that causes AIDS (Acquired Immune Deficiency Syndrome). AIDS weakens the body's immune system so it loses the ability to fight off infection and illnesses. When it was first discovered, many people thought it was a death sentence. However advocates contend that new medications have made living with HIV far more manageable.
"Diabetes is harder to manage as a patient, and the medical outcomes are worst," said Justin Goforth, 47, a registered nurse and director of community relations at Whitman-Walker Health, a nonprofit community health center in the District with special expertise in HIV/AIDS care and care for the Gay, Lesbian, Bisexual and Transgender community. Goforth handed out flyers and pamphlets that showcased the clinic at a table at a Howard University symposium on increasing the numbers of minorities in health professions on April 10. He said young people stopped to chat about the clinic's work.
Dawn Wilson, a graduate student at Howard University, was waiting for the results of her HIV test at the April 11 AIDS awareness event at Howard, which was hosted by Metro TeenAIDS (MTA) in Southeast, a community health organization dedicated to supporting young people in the fight against the disease.