Affordable Mazda Miata Tuned to Produce Driver Happiness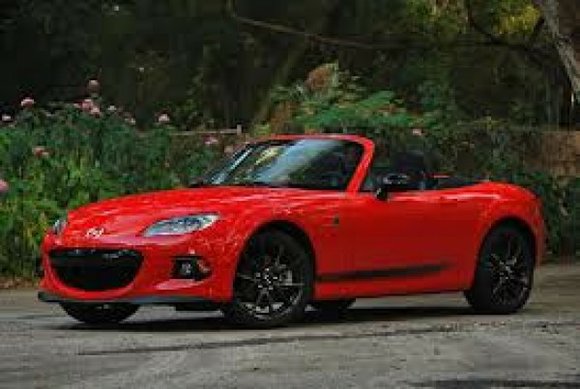 Spring has arrived. Despite the occasional frosty nights and the out of nowhere rain showers, days full of sunshine and warmth are back. Long neglected corners of the District beckon locals with time worn wisdom that the best way to enjoy our city and its delightful cherry blossoms is not from the open top of a double decker bus as tourists do, but from closer to the ground in a wind-in-the-ears convertible such as the Mazda MX-5 Miata roadster that I drove last week.
The MX-5 Miata – or Miata, as it's more often called in the U.S. – is as uncomplicated and pure as a sports car can get. Since the two-seater entered the marketplace more than 20 years ago, it maintains its position as one of the best roadsters, with equal parts fun and refinement in a compact and affordable package. It is a back-to-basics counterpoint in a market that has no shortage of heftier, high-tech roadsters and convertibles.
Part of the car's success is due in no small part to its sporty driving dynamics that still serves as a benchmark for others. With a nearly 50:50 weight distribution, the Miata hasn't bloated much during the last couple of decades. The first-year Miata (in 1990) had a curb weight of 2,105 pounds; the 2013 manual-transmission version weighs 2,480 pounds.
The MX-5 Miata was developed primarily for the North American market and throughout the vehicle's history the region has come through to remain dominant in global sales for what has inevitably become the world's best-selling two-seat convertible. With more than 900,000 units sold, it is by far the best-selling two-seat roadster in the world, and with the Guinness World Records to prove it.
Unlike many worthy Japanese competitors – Honda 2000, Toyota Celica and MR-2 – that faded into charming fossils, Mazda has kept adding zest to the Miata. Thanks to its precise steering, driver feedback is immediate and handling is similarly intuitive. This tiny Mazda reacts to driving commands with lightning-quick reflexes – it is thoroughly wired to please the driver.
Available with two distinctive and easy-to-operate head wraps, the 2013 MX-5 Miata comes standard with a Z-fold design soft-top or the industry-leading Power Retractable Hard Top (PRHT). For this year, all trims receive a fresh new front fascia. Fog lights are now standard on Sport models, and Grand Touring vehicles receive a new 17-inch alloy wheel design. It's attractively priced, easy to maintain and won't break you at the gas pump.
Miata has long attracted female buyers. Not that I experienced any hostility from male drivers; however, female colleagues and neighbors gave great compliments. From its long, lean body, which features a supplely rounded yet edgy tone, to its snug yet comfortable interior, which focuses on the seat behind the wheel, everything in this Mazda is geared toward the joy of driving – which is a great selling point whether one is male or female.
As much as I loved driving this car, I admit it's not for everyone. For many, it could make a great second car. Though its tiny trunk can barely fit an overnight bag, and there isn't much elbow or hip room, it makes a fun weekend getaway car or weekday commuter that snugly fits in all the tight garages downtown.
The Miata's 2.0-liter engine develops a very respectable 167 horsepower. Given its light weight, the engine outputs enough ponies to provide a spirited ride in various weather and traffic conditions.
Prices range from $23,720 - $29,250 depending on the trim level. Comparable convertible versions of the Mini Cooper and Fiat 500 have a charm all their own, but lack the kind of handling for which the Miata is renowned.
Fuel economy for the five-speed manual-equipped Sport models is an EPA-estimated 22 city/28 highway miles per gallon (MPG). For all models outfitted with a six-speed manual or automatic transmission, fuel economy is rated at 21 city/28 highway MPG.