THE RELIGION CORNER: Watch What You Say!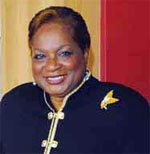 "Life and Death are in the power of the tongue: and they that love it shall eat the fruit thereof." Proverbs 18:21
Sigmund Freud, psychology's most famous figure remains one of the most influential and controversial thinkers of the 20th century; and according to Freud, unacceptable thoughts or beliefs are withheld from conscious awareness, and these faux pas help reveal what's hidden in the unconscious mind. That's certainly something to consider – and, it gives us pause.
The expression, a Freudian slip, is used today in a light-hearted manner when a person makes a verbal or memory mistake. In these situations, observers often suggest, that the error reveals some type of hidden thought, belief or wish on the part of the individual who makes the slip. Trust me, they meant every word!
Have you ever heard the expression, "A drunken man's words are a sober man's thoughts?"
Now, let's look at this scripture: Out of the abundance of the heart the mouth speaks. Luke 6:45. It wouldn't come out if it wasn't there in the first place – always, keep that in mind.
Reckless words borne out of negative thoughts that aren't in keeping with Christ's words, inevitably lead to mistakes and unkind attitudes and actions. When you find your thoughts going astray, catch yourself and stop immediately, remind yourselves that God is Love!
"But I say to you that for every idle word men may speak, they will give account of it in the Day of Judgment." Matt 12:36-37
In the scripture mentioned above, Jesus makes the point that words are so much more powerful that we realize. Words are a power source that most of us summarily dismiss in our daily lives but we shouldn't – words are potent – and wield power.
Get rid of all negative thoughts that you may harbor against yourselves or others, no matter how insignificant they may appear to be – there are no inconsequential thoughts or words. They either bring about good consequences or bad ones.
Often, words are spoken in relation to observations made about situations that we encounter. Just because something looks one way on the surface doesn't mean it's necessarily true. Poet and novelist Edgar Allan Poe hit the nail on the head when he said, "Believe half of what you see."
Don't always agree with what's in front of you. Instead, release your faith into action, and allow the Holy Spirit to have its way.
Need clarification?
Many of us may unknowingly make negative comments such as: "I love you to death; This job is killing me; You children are not going to give me a stroke; and pastors might say to their congregations, You church members are not going to give me a heart attack, you won't send me to an early grave!"
Sound familiar? When we speak aloud, we create our destinites. The Universe, the Source, and God, first and foremost, hears us loud and clear! Don't forget, He spoke the world into existence. He said in the beginning, "Let there be light, and there was light."
Here are several examples of what we should say at all times: "I am the head and not the tail; No weapon formed against me shall prosper; Fear not, for I am with you; Be not dismayed, for I am your God; No, in all these things we are more than conquerors through him who loved us; Now unto him that is able to do exceeding abundantly above all that we ask or think, according to the power that worketh in us; and The Lord is my light and my salvation; whom shall I fear?"
Remember, watch what you think and more importantly, what you say aloud, it can heal your life or hurt you!
Visit the website of Lyndia Grant at www.lyndiagrant.com to book Lyndia for speaking engagements at churches or businesses, call 202-518-3192, and send emails to lyndiagrant@gmail.com.