STEM Fair Winners Wow President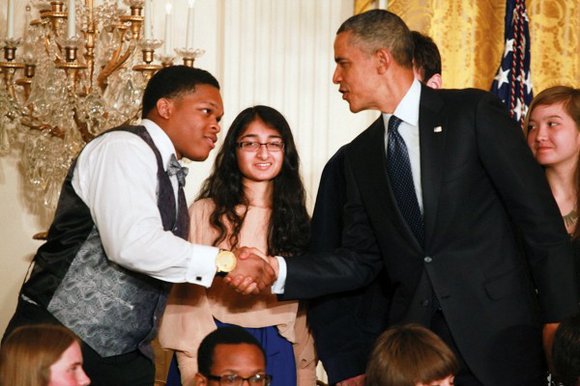 During a daylong ceremony Monday, President Barack Obama praised the winners of the White House's third annual Science Fair, as visionaries and innovators who are on the path to becoming the nation's next generation of scientists, engineers and inventors.
The science fair, which Obama said is one of his favorite White House events of the year, featured the pioneering creations of 100 whiz kids from more than 40 states, and represented 45 different competitions and organizations that recognize the talents of the country's future leaders in science and technology.
"This stuff is really cool," an amazed Obama said to the standing-room-only crowd who gathered in the East Room of the White House on April 22. "And I want to thank these incredible young people for explaining to me what the heck is going on," he said to a burst of hearty laughter.
The president went on to describe each of the participants as "enormously talented," adding however, that the credit for their success is shared by the communities of supporters who helped them to become high-achieving standouts at such early ages.
"They [students] have asked the question, 'why not try something better . . . something that helps more people,' Obama said of the beaming group of winners seated behind him. "They are all participants in this long line of inventors and creators . . . [and] that drive and that refusal to give up is part of what makes America great."
The celebration, which highlighted students' accomplishments in Science, Technology, Engineering, and Math (STEM) education, coincided with nationwide Earth Day activities, and showcased their projects which ranged from economically-feasible algae biofuel to a robot that paints with watercolors to a computer program that improves cancer detection.
Following his address, Obama toured the students' exhibits, congratulating them on their accomplishments.
He also announced several ambitious new steps to advance his "Educate to Innovate" campaign – a plan to encourage more students to consider careers in STEM fields.
Among the winners are Shaquiesha Davis, 16, from Chicago, who designed the mobile application, "Baby B 4 Me," that features a real-time chart that allows parents to record the feeding schedules of their babies in order to assist care providers.
She said the application was designed based on her experience as a babysitter.
"It connects parents and care providers outside of each other's presence," said Shaquiesha, a junior at Chicago Tech Academy in Southwest Chicago. "It has a real-time chart update, support network list, video and text," she said. "The chart is where the parent goes in and indicates when they want their child to take a nap or to [perform] an activity; and the care provider marks off when that's done."
Sara Volz, 17, who in March won a $100,000 Science Talent Search prize, talked about her algae biofuel project.
"Algae actually produces these oils that can be converted into a fuel that you can put straight into your diesel engine," said Sarah, a native of Colorado Springs, Colo. "So right now, the problem with bio-energy is that it's not quite economically-feasible, and we need a better source of these oils, than crops like soy beans. My work was based on using guided evolution to develop populations of algae with more oil."