STEM Fair Winners Wow President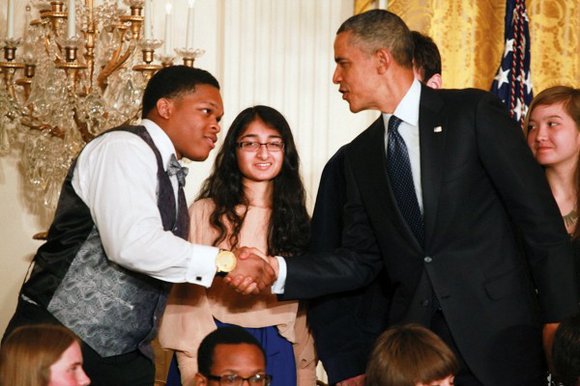 Other winners included: Kiona Elliot, 18, from Oakland Park, Fla., who worked with classmate Payton Karr, 16, to invent a bicycle pedal-powered water filtration system.
Kiona and Payton, who both attend Northeast High School, and will be the first from their respective families to attend college, said their transportable device can be operational and ready to move in less than 60 minutes. In addition, the system can clean contaminated water, and hydrate up to 30 people in a 15-hour period, they said.
Anthony Halmon, 19, is founder and CEO of the "Thermofier," a unique combination of a pacifier with a built-in thermometer and soothing gel that he said, will ease the concerns of parents trying to monitor the health of a fussy baby.
Halmon, who became a teenage father, said he was raised on the tough streets of Chicago. But Halmon, who will he entering Cornell University in the fall, said that instead of letting early fatherhood deter him from his dreams, he has become even more determined to use education as his pathway to success.
A slate of celebrity guests who attended the event, included actor LeVar Burton and Bill Nye host of "Bill Nye the Science Guy," both of whom conducted interviews with some of the winners.
"I think it's remarkable that the president is honoring these student scholars," said Burton. "It's the same way he would honor an NCAA championship team coming to the White House, and getting an opportunity to get some face-time with the president – this is something that's really big for these kids."