Trayvon Martin's Parents Petition for States to Review 'Stand Your Ground' Laws
WI Web Staff | 8/1/2013, 2 p.m.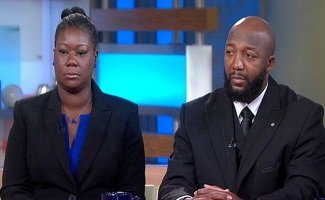 More than 146,000 people across the country have signed a petition launched by Trayvon Martin's parents calling for the states with "stand your ground" laws to review the policies following the acquittal of George Zimmerman in the fatal shooting of Trayvon.
"We've started this petition on Change.org as a matter of making sure that no other family will ever have to go through what we have been through," said Sybrina Fulton, Trayvon's mother. "No parents should ever have to know what it feels like to watch [their] child's killer walk free."
According to the the National Conference of State Legislatures, there are at least 21 states that have "stand your ground" laws similar to Florida's. The petition calls for the governors of each of those states to support reviews of those laws, particularly whether the law is written in such a way that it protects the aggressors of situations that result in death.
Zimmerman, 29, was charged with second-degree murder for the Feb. 26, 2012, killing of 17-year-old Martin at the Sanford, Fla., gated community where Zimmerman and Martin's father, Tracy, lived. The case drew nationwide attention when authorities waited nearly two months to charge Zimmerman.
Zimmerman admitted to shooting Martin but claimed he acted in self-defense. Under state law, the shooting is justified if it is determined necessary to prevent death or substantial physical harm.
Juror instructions provided by Circuit Judge Debra Nelson during the Zimmerman trial instructed jurors to acquit if they felt Zimmerman "had no duty to retreat and had the right to stand his ground and meet force with force, including deadly force if he reasonably believed it was necessary."
Following Zimmerman's acquittal, President Obama said the laws should be reviewed so that they do not encourage people to "use those firearms even if there is a way for them to exit from a situation."
Republican Sen. John McCain of Arizona also supported the call for reviews. When asked on CNN whether his home state should review its own similar law, he said, "I'm confident that the members of the Arizona legislature will ... because it is a very controversial legislation."
Fulton said it isn't a "Democrat or Republican issue, it's not 'Black' or 'White' issue, it's a wrong and right issue."
Martin's parents also started a second petition on Change.org aimed specifically at reforming Florida's "Stand Your Ground" law, where data from the the Florida Department of Law Enforcement shows justifiable homicides in Florida have risen from an annual average of 13.2 between 2001 and 2005 to an average of 42 between 2006 and 2012, including a record 66 justifiable homicides in 2012. Legislation that died in committee is being re-filed by Florida Sen. Chris Smith.
The largest number of signatures on Tracy and Sabrina's petition thus far have come from Texas, Georgia, North Carolina, Arizona and Florida.